LGBTQ+ History Month: see what's on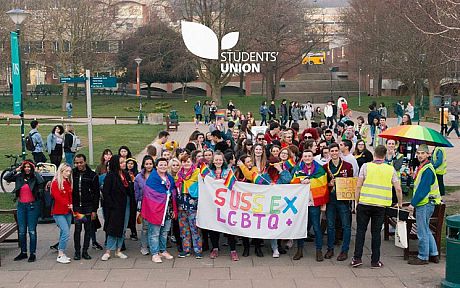 During February, events are taking place on and off campus to mark UK LGBT History Month 2020.
Now in full swing, the History Month provides us with an opportunity to think about the lives, experiences and issues faced by LGBT+ people in the past and present. This year's theme is Poetry, Prose and Plays.
The Students' Union and LGBTQ+ Society are putting on a programme of events including Sussex Pride (26 February), social meet-ups, quizzes and film screenings. Read more in the previous edition of Flint and check out the full listings.
If you're a member of the LGBTQ+ Society you can see a performance for free on 18 February: Emma Frankland's piece Hearty, a response to her gender transition and the politics surrounding trans identity, is playing at Attenborough for the Creative Arts (ACCA).
New Queers on the Block, a scheme supporting the development of LGBTQ+ artists and audiences across the UK, has commissioned a number of events that will be performed at ACCA.
Other events include a screening of 'Britain on Film: LGBT Britain' at The Keep on 29 February. This moving collection of films dating from 1909-1994 highlights some of the earliest representations of LGBT people on screen, collective public activism and the fight for equal rights as well as personal experiences. On the day of the screening a selection of relevant original material from The Keep's archives will be on display from 1pm.
Look out for the rainbow flag flying over Sussex House throughout the month.