Your future: why Make it Happen should be part of your plans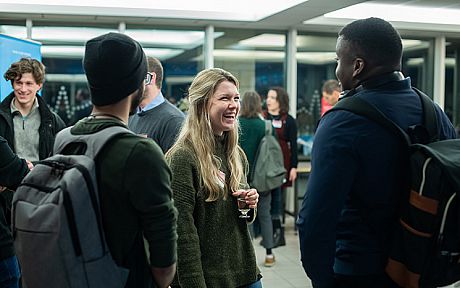 More than 20 former students will be coming back to campus for Make it Happen with Sussex alumni, from Monday 24 to Thursday 27 February.
The week will feature panel events with a range of alumni from four broad industry sectors, from Media and Communications to Government, Public Services and Heritage.
From graduates at the beginning of their journeys to CEOs and Directors who have worked their way to the top, speakers will be sharing their experiences and giving valuable insights into working in their industry. Topics in the past have included how they got into their career, the challenges they have faced and what keeps them motivated.
Whether you're already applying for graduate schemes, or aren't sure what you want to do next, there are times when hearing from someone who has been in the same position before is the boost you need to take your next step. That's why Make it Happen was created.
Events include:
Speakers confirmed so far include:
Nkem Ifejika, Documentary and Podcast Maker (Media and Communications)
Lloyd Russell–Moyle MP (Government, Public Services and Heritage)
Yiheng Yu, Analyst at Deutsche Bank London (Business, Finance and Marketing)
Polly Gilbert, Marketing Director at GoodBox Co and co-founder of TAP, London (Business, Finance and Marketing)
Nikki Bayliss, Head of Development at Alzheimer's Disease International (Development, Charities and Not-for-Profit).
You can read Polly's story and get to know her ahead of the Business, Finance and Marketing event in her Spotlight on: interview.
Evening events will include a panel event and Q&A to ask the panel any burning questions you may have, followed by a chance to chat with the panellists individually, which in the past has led to jobs for some students. Free drinks and nibbles are included.
Many speakers are also on Sussex Connect, the University's eMentoring platform, where you can continue conversations after the event.
Make it Happen runs from Monday 24 to Thursday 27 February. Additional School-specific evening events will be taking place later on in the term including Careers in Life Sciences on Wednesday 11 March. Please check the Make it Happen web pages and the Careers Facebook and Instagram for updates.