Your say: become a Students' Union Officer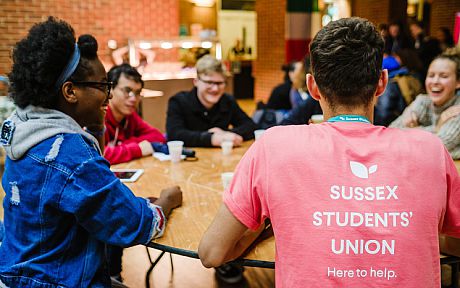 What would you change at Sussex? How could you make Sussex awesome?
Each year the Students' Union asks all Sussex students to choose six students to become their full-time representatives or Officers.
Officers are the voice of Sussex students, representing them in the rooms where big decisions are made by University management. Officers help lead the Students' Union for a year and become involved in making lasting changes to the way things are run at both the University and in the Students' Union.
Full-time Officers are paid to do this job. Working alongside them on a voluntary basis are also five part-time Officers.
This year all roles are brand new, following a response to the 2019 Spring referendum (student vote), where students like you voted for the Students' Union to introduce a full-time International Students' Officer. The new roles open for nominations now until 20 February are:
Full-time Officer roles (paid):
International Students' Officer
Education and Employability Officer
Wellbeing Officer
Diversity, Access and Participation Officer
Societies, Sports and Events Officer
Student Living and Sustainability Officer
Find out more about the Full-time Officer roles.
Part-time Officer roles (voluntary):
Students with Disabilities Officer
BAME Officer
Women's Officer
LGBTQ+ Officer
Trans and Non-binary Officer
Postgraduate Taught Officer
Postgraduate Research Officer
Find out more about the Part-time Officer roles.
So, if you:
think you can help create positive change at Sussex
love the idea of representing and helping your peers
think Sussex could be amazing and you have ideas about how to achieve that...
Go for it and run for an Officer role.
Nominate yourself via the Students' Union website.
If you have friends who would be great at this, tell them to go for it by sending them an electronic postcard.
You can find more information about elections on the SU website.