Your studies: check out these helpful resources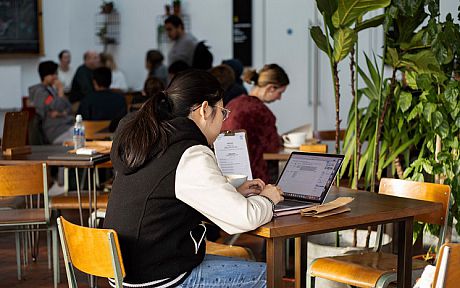 The festive season may be around the corner, but so are some submission deadlines and pieces of work that need to be completed. We understand what a stressful time of year this can be, so here are some ways the Library can help and support you.
Finding relevant resources for written work
Whether you're coming to the end of your first term or about to begin your dissertation, there are plenty of ways that the Library can help you to find the resources that you need. Library Search is a great place to begin your searching and on your Subject Guide you'll find the highest quality academic resources for your specific area.
For more hands-on support you can also book a place on our 'Level up your Library skills' sessions that will be running until the end of term.
Group work and presentations
If you need to work in a group or deliver a presentation we also have resources that will help you. On the Skills Hub you'll find guidance on preparing for presentations, links to some of the digital tools that you can use, advice on group presentations and much more.
We also offer bookable one-to-one sessions so if there's something that you need a little extra help with please get in touch. We're here to support you.
Referencing and plagiarism
With so many resources available to you it's not always easy knowing how to reference these accurately and avoid plagiarism. However, it is essential that you do. On the Skills Hub you'll find guidance on how to reference with the different styles used at Sussex.
You'll also find information about some of the different Reference Management Tools that you can use to make this process easier, along with workshops on how to use these tools.
From help with time management to resources designed to support your wellbeing, get in touch to find out how we can best help you and let us bring some seasonal joy to your studies.
Support for your wellbeing and mental health
If you're feeling worried or struggling to cope, please make sure you speak to someone. The Student Life Centre on campus can advise you on a wide range of issues or refer you on for further support. The student wellbeing web pages also have lots of information about ways to look after yourself.