Your future: don't miss the Virtual Spring Careers Fair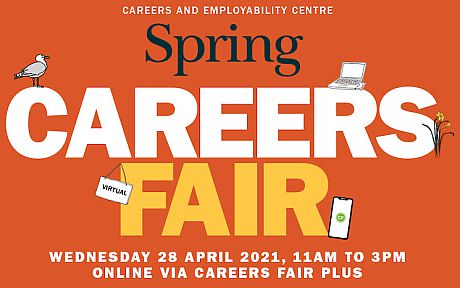 The Virtual Spring Careers Fair on Wednesday 28 April is a great opportunity for you to research and speak to over 20 recruiting employers, find out about their current opportunities, and chat with them in online meetings.
In a job market that has changed significantly in the past twelve months, it's a chance to find out how employers have responded, how it has impacted their organisation, and hear more about what they think the job market will look like going forward. It's also an opportunity to find out about your different career options and network with recruiting employers.
Do your research
If you do your background research into exhibitors and their opportunities beforehand, you'll come across as confident and prepared.
Start with the Careers Fair Plus website or download the app to find out who is exhibiting; use the filters to look at vacancy and opportunity types, location, degree subjects they are hiring from, if they require a work visa and if remote working is an option. Make a list of companies you are interested in using the 'favourites' function and have a look at their websites to find out more about them.
You can also use our sector guides to find out more about different job types.
Join meetings to speak directly with exhibitors
Many of the employers are offering one-to-one and group meetings to speak to them and ask questions directly. This is a great opportunity to find out much more about the company and the roles they have on offer and to ask the recruiters specific questions about what they look for in candidates. While it isn't an interview, by doing some research you can impress the recruiter, as they may also be trying to find out more about you and assess whether they think you are a good fit for them.
Careers Fair Plus have put together a guide for how to book your meetings.
Top tips for meetings on the day
We've all joined plenty of video calls in the past year, but for many of us feeling and acting confident on video calls doesn't come naturally. Here are some tips that can really help:
Prepare some questions beforehand – what is it you want to find out about the company and role? Try to think of questions that aren't obvious from their website.
Pick a suitable quiet location with a good internet connection. This is important. Avoid noisy places and minimise background noise, and try to have a plain, uncluttered background behind you. Let people you live with know that you are taking calls.
Dress professionally. This may sound strange for a 10-minute video call but can help you feel positive and wearing clothes that make you feel good can help with confidence. Nerves can give you a dry mouth so have some water nearby in case.
Take some notes and don't be afraid to ask for clarification if you aren't sure of something. This is your chance to talk to a recruiter and find out information that isn't necessarily obvious from their website.
Remember that this is a chance to impress and might end up in a job so make sure you have prepared well!
Questions you may want to ask
What is a typical day like for you?
What do you enjoy most about your job?
Do you have any tips for the selection process?
What exactly are you looking for in an applicant?
Why did you choose to work for this company?
More information
The Virtual Spring Careers Fair is on Wednesday 28 April from 11am to 3pm. Appointments with employers open on Monday 19 April, with limited timeslots available.
Find out more on the Virtual Spring Careers Fair web pages.