Disability History Month: see more events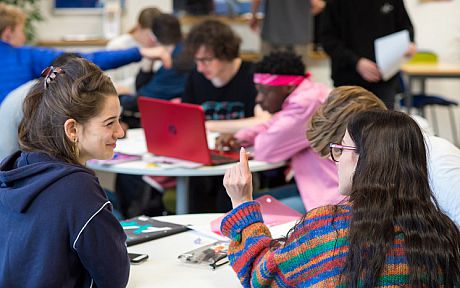 UK Disability History Month runs until 20 December. The annual event aims to create a platform to focus on the history of the fight for equality and human rights for disabled people.
You can view the previous edition of Flint for information about how the University and Students' Union are marking the month, and read on for a round-up of more events and activities still to come.
Wear purple
Tuesday 3 December
Join the Purple Light Up movement by wearing purple on campus on International Day of People with Disabilities.
---
Ask the Library anything: Q&A
Tuesday 3 December, 1pm to 2pm, @sussexlibrary on Instagram
An opportunity to ask Library staff questions and give feedback about accessibility. From 3 December, the Library team will also be asking for students' views through a board outside the Open Learning Space and an online form.
---
SU Students with Disabilities Officer drop-in
Thursday 5 December, 1pm to 2.30pm, Student Support Unit at the Student Life Centre, Bramber House
Speak to Students with Disabilities Officer Callum Chapman, who will be around to talk and offer advice.
---
Disability networking coffee morning (autism-friendly)
Friday 6 December, 9am to 12 noon, the Meeting House
Anybody who identifies as having a disability is welcome to come along for hot drinks, snacks and conversation.
---
A conversation about disability
Friday 6 December, 2pm to 4pm, Library Open Learning Space
All students are invited to drop in to this 'Living Library' session to have a one-to-one conversation with a member of staff or a student who either has experience of a particular disability or provides support for someone with a disability.
---
Free film screening: Pokémon
Friday 6 December, 6pm to 8pm, Chichester 1 Lecture theatre
The School of Engineering and Informatics is showing a Pokémon film in celebration of the creator of Pokémon, Satoshi Tajiri. Tajiri, who is on the autism spectrum, had a childhood obsession for bug collecting. As an adult he channelled this into the creation of Pokémon.
---
"Overcoming barriers in sport" – with special guest speakers Kate Farley and Jazz Turner
Monday 9 December, 5.30pm to 7.30pm, Mandela Hall, Falmer House
Kate Farley and Jazz Turner, two women with inspirational stories, will be talking about their personal sporting journeys. Wheelchair sailor Jazz, a current student and one of Sussexsport's scholars, was recently nominated for Disabled Sports Personality of the Year at the Sussex Sports Awards.
Sunflower lanyard scheme for those with hidden disabilities
Not all disabilities are visible. It can be difficult for others to recognise, acknowledge or understand the challenges faced by people with – for example – autism, chronic pain, dementia, anxiety, or visual or hearing impairment.
Now students with hidden disabilities like these can wear a sunflower lanyard on campus to indicate discreetly to the people around them that they need additional support or a little more time.
Students who identify as having a hidden disability or think they might benefit from the scheme can collect a sunflower lanyard from the Student Life Centre or the Student Support Unit in Bramber House.
Alternatively, you can contact the SU Students with Disabilities Officer, Callum Chapman, in Falmer House or by emailing studentswithdisabilities@sussexstudent.com to arrange collection.
Callum thanked the University for financing the scheme and said: "We hope that this scheme will highlight the need to be more open when talking about disability."
Read more on the news pages.