Festive events: see what's on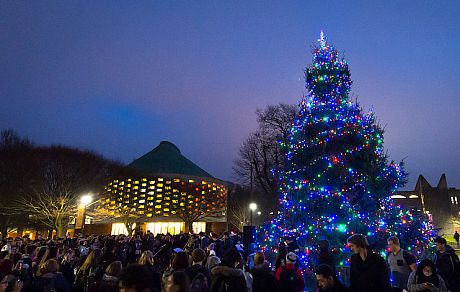 As we approach the winter break there are plenty of events coming up to get you in the festive spirit.
Christmas lights switch-on
You're invited to join the Students' Union as they switch on the Sussex Christmas Tree Lights on Friday 6 December, from 4pm in Library Square.
There will be complimentary mince pies and mulled wine, plus performances from Sussex societies including Big Band.
---
Christmas market
Explore the annual Christmas market put on by SussexFood between 12 noon and 7pm on Friday 6 December in Library Square. This year the event is raising money for Rockinghorse and the Injured Players Foundation.
---
Craft fair
On Friday lunchtime (12 noon to 2pm) you can pick up festive cards, handcrafted items and unusual goodies at the Craft fair, taking place on the ground floor of the Jubilee building.
---
Christmas dinner in the Great Hall
This Friday, from 6pm to 10pm, enjoy a feast and live entertainment as the historic Mandela Hall is turned into a winter wonderland. It's £15 including a drink on arrival and all the trimmings. Discounts are available for group bookings and Buddy Scheme members. Book your place via the Students' Union website.
---
Postgraduate presents: DragSoc Christmas special
Another option for Friday evening (7.30pm to 11pm, Room 76) is a special event from DragSoc. It's open to everyone and especially created as an opportunity to bring the postgraduate community together.
---
Yule ball
Have a magical time with the Harry Potter Society. The Yule ball is happening in Mandela Hall on Saturday 7 December.
Staying in Sussex over the vacation?
If you're planning to stay on campus or nearby over the holiday, have a look at helpful information and events you might be interested in – including the Boxing Day-style lunch in the Meeting House, taking place on 20 December.