One World Week: submit your event idea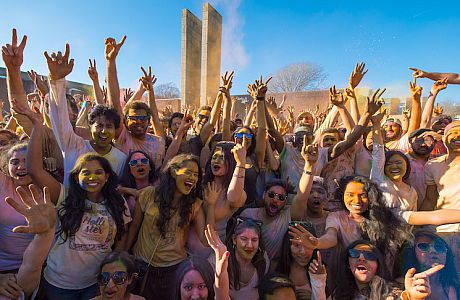 One World Week, part of the One World Sussex programme, is a period of celebration for students and staff across the University to promote cultural understanding and champion Sussex's diverse global community. It's run collaboratively by the University and the Students' Union.
One World Week 2020 will be taking place from Monday 16 March to Friday 20 March, and now's the time to submit your idea for an event! Funding, support and resources are available every step of the way.
Simply complete a short online form, telling us a bit about the event, or events, you'd like to run and why. The deadline is the end of term, Friday 13 December.
Previous events have ranged from TEDx talks to tasting global foods, and from calligraphy to carnival fun. And whether it's bringing together hundreds of students for a giant Holi paint fight or hosting a Q&A panel of radical film-makers, there's scope for events on every scale. Check out last year's One World Week programme for inspiration.
We'll be updating you in Flint as the programme develops.