Your online community: what's coming up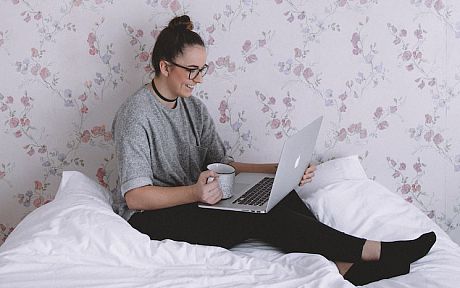 Things to do – Res Life Online
The Residential Life Connectors are still running virtual activities for all Sussex students, open to you whether you're currently staying on campus or not.
Visit the Things to do pages to see upcoming event listings. This week, how about having a supportive chat at a drop-in or meeting people virtually at Break the Ice(olation)?
There you can also find recommendations from students for stuff to watch, listen to and more.
Business for Better: Doing Well by Doing Good with Harsha James
Wednesday 24 February, 12 noon to 1pm
Business for Better is a series of Business School events with Sussex alumni giving short TEDx style pitches about how they're making a positive impact on society through their work in business, followed by an interview with a student and an open Q&A.
Each event will take place on the last Wednesday of the month. Launching the event series is Harsha James, a global communications professional working in the investment industry with her talk 'Doing Well by Doing Good'.
Find more information and register for this free event.
Ask the experts: live discussion on Covid-19 with leading Sussex experts
Thursday 4 March, 5.30pm to 6.30pm
Chaired by Sussex alumna, broadcaster (presenter of Health Check and The Evidence on BBC World Service) and Psychology Visiting Professor, Claudia Hammond, the first of our Ask the Experts series brings together a panel of world-leading experts in their field:
Prof. John Drury, Professor of Social Psychology and participant in the SPI-B advisory sub-group of SAGE. Member of Independent SAGE and of two British Psychological Society Covid-19 task force working groups: Behavioural Change & Disease Prevention and Community Action & Resilience.
Dr Jenna Macciochi, Lecturer in Immunology and author of Immunity: The Science of Staying Well.
Dr Joshua Moon, Research Fellow of the University of Sussex Business School in the Science Policy Research Unit (SPRU); an expert on global health emergencies and a member of a global research study into international Covid-19 testing systems.
Dr Ed Wright, Senior Lecturer in Microbiology and expert virologist.
Find more information and register for this free event.
LGBTQ+ History Month
LGBTQ+ History Month is a national programme that takes place every February. Students' Union listings showcase events from Sussex students, staff and local organisations. Online events this year include LGBTQ+ Speed Mates, a rainbow baking competition and more. Visit the SU website for the full listings.
If you're interested in learning more or sharing resources around LGBTQ+ History Month, join the SU's collaborative page, which has recommendations by Sussex students and staff.
Stay Home with Us – from Sussexsport
Sussexsport's Stay Home With Us online fitness and wellbeing programme continues. There's something for everyone, however you want to keep moving.
For free access to classes, you'll need to register and login using your University, BSMS or IDS sign-in via your Sussex Zoom account.
View the full timetable and find Zoom details for each class on Sussexsport's webpages.
Each week we're also asking members of our community what they're doing to make lockdown life that little bit easier, and how they are looking after their physical and mental health. You can read the latest feature with Deputy Head of Sport, Terry Cooper.
Image by Becca Tapert on Unsplash