Buddy Scheme: four reasons to volunteer next year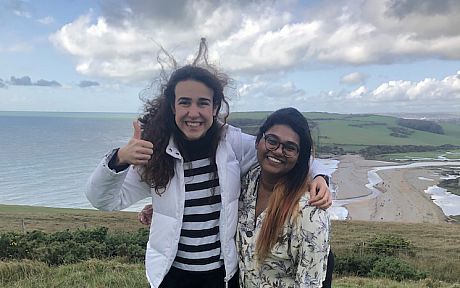 We all need support and someone to reach out to, or to help us settle in. While next academic year is a while away, the Buddy Scheme is looking for students interested in volunteering.
If you express your interest at the Buddy Scheme website, you'll get more information. In August you'll be matched with new students, who you'll help adjust to university life.
Here are four reasons to consider being part of the project:
1. Support others who'll be joining Sussex in September. Lend them a hand by using your knowledge and tips to answer their questions before they arrive and once term begins.
2. Be the difference to a new student's time at university. Help them navigate studying, making friends and getting to know the area, which can all be daunting.
3. Make connections with up to five new students who you'll be matched with based on your preferences. Trips, activities and events offer opportunities to find your people too.
4. Develop your skills through this flexible, fun and informal way to volunteer. You'll gain handy transferable skills to set you up for future career opportunities.
Revathy, a volunteer, says: "The Buddy Scheme was one of the reasons I felt so welcome in an unknown country and city. I was able to help out a fellow student who was in the same position that I was in a year ago. I have met so many new people, established friendships and have so many stories. The Buddy Scheme has definitely been an integral part of my university experience and I recommend it to any and all students."