One World Week: why you should come along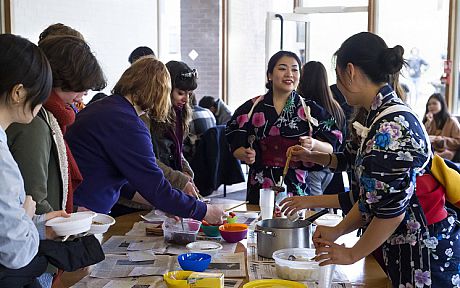 One World Week is one of the highlights of the Sussex calendar and it's coming up soon. This year it's taking place from 16 to 21 March, with thousands of students and staff getting involved in this special annual celebration, running and attending events showcasing food, language and culture.
You might have seen photos of One World Week events before, or even have attended them. Shared a dish from a society in Mandela Hall? International Food Festival! Those people running around Library Square covered in paint? That's Holi festival – South Asian Society's festival of colour.
You can look forward to both these events making an appearance again this One World Week. For Business Management student Anton, you can't miss Holi: "The Holi run is the one I will cherish in my memories forever. Never have I ever been covered in so much colour before and had so much fun! During One World Week it feels like the whole world comes to gather in one place, which is Sussex campus."
The Buddy Scheme and Language Café will be hosting special One World editions of their regular events, run by Language Café Leaders like Geography student Cristian: "One World offers the opportunity for multiple cultures to come together and the Language Café works as part of that. We allow participants not only to obtain greater knowledge of the language they study but also an appreciation for different cultures that are connected with those languages".
Alongside these more familiar One World Week fixtures, you can expect to see some new and exciting stuff coming to Sussex for the very first time. Fresh highlights for the week include a full day dedicated to Lucha Libre, a cheese of the world showcase, Decolonise Conference, a takoyaki making workshop and Malentisa celebration.
Keep checking the One World Week listings where new events will be added in the lead up to the week.