LGBTQ+ History Month: what's coming up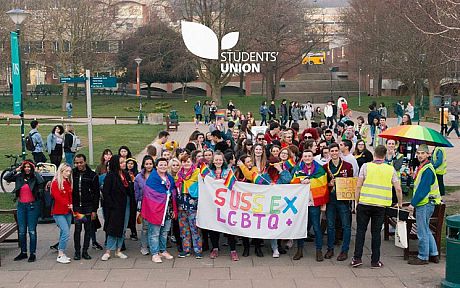 During February we'll be marking LGBTQ+ History Month with events across the University run for and by students and staff. On the Students' Union website you'll find event listings and highlights, including:
Mx Sussex 2020
The annual student drag pageant hosted by Drag Soc will see kings, queens and divas take to the stage to see who's heading home with a crown and a cash prize.
Meet-ups and more
LGBTQ+ Society are running meet-ups, screenings and socials designed to foster community, forge connections and facilitate fun. Whether you're looking for karaoke, board games or sexual health workshops, there'll always be a friendly face around from the society to say hello to.
Culture fix
If you fancy checking out some theatre, ACCA is co-hosting the New Queers on the Block Brighton weekend series with The Marlborough. Go along to see performances by exciting and innovative LGBTQ+ artists, including Sussex alumni.
Later in the month, explore Brighton Museum and Art Gallery after dark and see the new Queer the Pier exhibition.
Sussex Pride
LGBTQ+ History Month will culminate in Sussex Pride on Wednesday 26 February, with all students and staff encouraged to gather for a march through campus in the spirit of celebration, protest and solidarity. This will be followed by a very special afterparty in Room 76 featuring student performances and speeches.
Interested in hosting an event?
There's support available for students and staff interested in hosting an event as part of this year's LGBTQ+ History month, no matter the scale, with potential funding available for student groups too. You can put your idea forward using this short form.