Your wellbeing: Time to Talk Day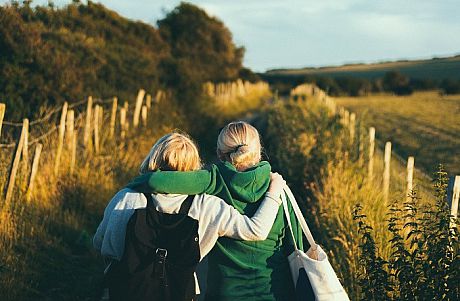 Would you rather: have the neck of an ostrich OR speak to a friend who's burying their feelings?
Thursday 6 February is Time to Talk Day, which is celebrated each year and is all about encouraging everyone to be more open about mental health. This year, they're using the game 'Would you rather?' to help break the ice and get the conversation flowing.
Here at Sussex there are lots of ways that you can speak to someone about mental health.
Tea and Talk – Wednesday 29 January onwards
Fancy a chat? Need to take some time out? Come along to Tea and Talk.
Every Wednesday during term time students can come along to the Meeting House between 1pm and 3pm to enjoy free tea and biscuits, games and relaxed chat with friendly, trained student volunteers.
On Wednesday 5 February there will be a special Time to Talk Day themed session with games and crafts.
Walk and Talk – Monday 3 February
Join the Dog Walking Society for a stroll around Stanmer Park.
It's often easier to talk to people when we're doing an activity like going for a walk. The Tea and Talk volunteers will be on hand to chat and there will be plenty of dogs to make a fuss of too!
Meet at on the ACCA lawns at 12 noon. Find out more.
Supporting a friend?
It's important to be as kind and supportive of others as you can, and you can help them to find support. But, it's also important to remember that it's not your responsibility to fix someone else's problems.
If you're worried about a friend you can speak to your Residential Advisor or the Student Life Centre.
For tips on talking to others, check out these Time to Change tips for talking about mental health.
To learn more about looking out for others, book a place on a "Look After Your Mate" workshop.
Want to learn more about looking after your own mental health?
You can find information and tips on looking after your own mental/emotional health on our wellbeing web pages.
Need some support?
No matter how well we try to look after ourselves, we all need a little extra support sometimes. The Student Life Centre is the first place to go with any concerns or queries related to student life. You can find information about support services on the Student Wellbeing web pages.
Photo by Joseph Pearson via Unsplash