Your wellbeing: looking after yourself during revision and assessments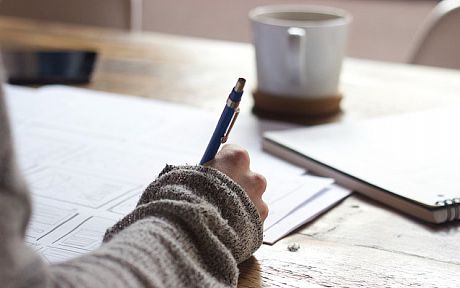 Preparing for assessments can feel stressful no matter what else is going on at the same time. During this period of social distancing, remote studying and altered assessment methods, it's especially important to try to look after yourself as you revise and get ready. Here are some tops tips from the Student Wellbeing team.
Plan down-time
Make a revision timetable that includes time off. It's really important to structure your time each day, with time set aside specifically to take breaks and relax. This will help you to focus on studying when you need to and give you a chance to switch off and recharge.
This is just as important if you'll be assessed via a Take Away Paper (TAP). Just because you have 24 or 48 hours in which to complete an assessment it does not mean that you should be working on the assessment for that whole time. Both a 24- and 48-hour TAP will have a notional 'work-time' of up to 8 hours and there is no expectation that you will spend longer than usual on assessments.
Use your breaks effectively  and relax
If you tend to stay at your laptop and switch from studying to social media, or to look at your phone, it might be helpful to reflect on whether your break really feels like a break. It might feel better to get up, move around and do something completely different.
Do some focused relaxation. Think about what works well for you, whether it's a hot bath, playing video games, mindfulness, breathing exercises, crafts or something else – make time for it and allow yourself to enjoy it. Read our volunteers' tips for looking after your wellbeing at the moment.
Connect with others
Academic work can feel lonely and isolating, especially in the context of social distancing and studying remotely, so spending time connecting with others is really important for your wellbeing. Try using video calls to connect with friends and family. You could try one of these ways to connect with others.
Exercise
Sussexsport is running free online fitness classes for Sussex students. You could also try doing a home workout – there are loads online. If you're able to get outside to do some daily exercise, whilst following government guidelines, then you'll get an extra boost from the sunlight and fresh air.
Eat and drink well
Feed your brain with nourishing meals and try to avoid processed foods. If you feel like you haven't got time to cook healthy meals from scratch every day then you could prepare a batch of your favourite healthy food (like chilli or curry) before exam time and freeze it in portions.
Be careful with your intake of coffee, tea and energy drinks. Too much caffeine can cause difficulties with concentration and can disrupt your sleep pattern, especially if consumed in the evening. Do make sure you drink lots of water to keep your body and brain well hydrated, because this will support concentration.
Sleep well
Try to stick to a sleep pattern. It can be tempting to throw routine out of the window when revising, especially when studying remotely, but the best way to maintain a healthy sleep pattern and get lots of rest is to try to go to bed and wake up at roughly the same time each day. This will help your brain to function well and have a beneficial effect on mood too.
Ask for help when you need it
Assessment methods this summer may be different to what you were expecting and might be unknown. Take some time to familiarise yourself with the new methods that will be used, and keep an eye on Sussex Direct and Canvas for updates.
The Library and the Careers and Employability Centre can provide lots of helpful information and advice on skills to help you study effectively, including online resources and webinars.
Student Life Centre staff are still on hand if things feel difficult. Find details of Sussex support services.
You can also find more useful advice on the Student Minds website.
Photo by Green Chameleon via Unsplash