Campus works impacting roads, access and parking
By: Paul Anderson
Last updated: Friday, 14 June 2019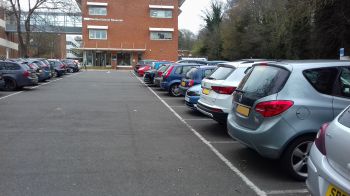 Essential work continues across campus to improve our facilities and infrastructure. We greatly appreciate your understanding and patience during this time.
This update should give you an indication of work that is planned for the coming week and how this might affect you.
Car parks
P1 Science car park: open (18 spaces closed)
P2 Falmer Sports Complex: open
P3 Biology Road car park: open (20 spaces closed)
P4 Sussex House car park: open
P5 Sport Centre car park: open
P7 Jubilee car park: open (closed Saturday 22 June)
P7a Arts car park: open (closed Saturday 22 June)
P8 Park Village car park: open
P9 Lewes Court car park: open
P11 Knights Gate car park: open
Works on Science Car Park
When using Science car park (P1), please be aware of large vehicles now accessing the bank on the south side of the car park.
Roads, access and other works
Access to Jubilee car park and Arts Road closed next weekend
The west side junction of Arts Road (leading to IDS, Jubilee car park, and the Library) will be closed next Saturday 22 June to enable essential works in the area. Access to the Jubilee multi-storey and IDS car parks will be closed. Please consider this closure if travelling to campus during this weekend.
Roadworks on Stony Mere Way and University Way
The ongoing works on Stony Mere Way to facilitate the installation of our new generators have necessitated a single-lane closure with traffic management. Please be aware of brief delays when travelling to and from campus via this route.
Sussex House crossing works
Final works on the pedestrian crossing at Sussex House will be taking place from Monday 17 to Thursday 27 June. This will necessitate a single-lane closure with traffic management in place, while the area is excavated. Bus routes will not be affected.
Boiler House Hill weekend closure
Please be aware that Boiler House Hill will be closed on Saturday 29 June between 8am and 6pm, to undertake road maintenance works.