Chemistry student presents research at competitive undergraduate symposium
By: Jessica Gowers
Last updated: Thursday, 4 July 2019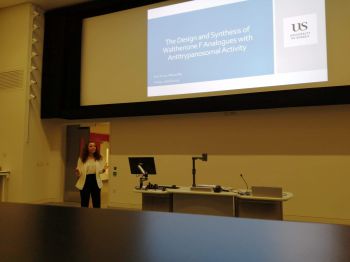 A Sussex chemist was one of ten students in the country selected to speak at the SCI National Undergraduate Research Symposium on 28 June.
The daylong event, held at Imperial College London, saw Undergraduate Chemistry students present their research projects to a wide audience and was an excellent opportunity to discuss their work with both academic and industrial representatives.
Erin Knox-Macaulay was selected to present her MChem research project, which is focussed on developing new treatments for Chagas disease.
She said: "Being chosen to present my research at Imperial College London was quite overwhelming but incredibly exciting. I am very passionate about the need to develop drugs for neglected diseases so I thoroughly enjoyed conducting the research over the past year, as well as furthering the understanding of waltherione F analogues as a potential antitrypanosomal therapeutic."
Chagas disease is a tropical parasitic disease endemic in South America and is transmitted by blood sucking insects called triatomine bugs. About 6 to 7 million people worldwide are estimated to be affected by this neglected tropical disease.
Erin completed her project under the supervision of Professor Brian Cox, whose research is focussed on looking at new treatments for this disease. The ongoing research is in collaboration with the University of Geneva and the Drugs for Neglected Disease Initiative (DNDi) and supported by a grant from the Swiss Government.
Professor Cox said: "For me it is wonderful to see Erin's hard work presented and for her research to represent my lab, the Chemistry Department and the University of Sussex. The work is a continuation of four years' work which has included the work of two other fourth year MChem students from previous years, who have both gone on to successfully to do PhDs .
"The MChem programme is a fantastic opportunity for students to work on real-life projects throughout the field of Chemistry and having the opportunity to present at this symposium is further preparation for a future career, be it in academia or industry. The selection process to present at this symposium is very competitive and we are all very proud of Erin!"
Last year, Professor Cox and his colleagues (Dr Victor Zdorichenko and Dr Mark Roe) published the work that was carried out up to the start of Erin's project, with the two previous MChem students as co-authors. For more information, read 'The Synthesis of Waltherione F and Its Analogues with Modifications at the 2- and 3-Positions as Potential Antitrypanosomal Agents' in Chemistry - A European Journal.