Don't trespass. Stay off the tracks
Posted on behalf of: Transport
Last updated: Monday, 11 January 2021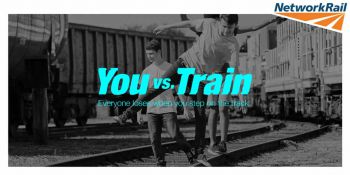 Trespass on the railway has seen spikes throughout the coronavirus pandemic and Network Rail are urging all students to stay off the tracks.
The railway's a seriously dangerous place to be. If you're not hit by an unexpected train, you'll be struck by the lethal current in rails and power lines. In many places, trains are powered by overhead wires carrying 25,000 volts of electricity.
A dedicated website provides more information about the railway's hidden dangers as well as real-life stories from families of young people whose actions have had far-reaching and devastating consequences.
And this Network Rail safety video explains why it is important to stay safe near railway tracks. Just enter the email address railsafety@learnliveuk.com when you first watch the video.
Don't mess around on the tracks ... Stay safe