"The support from the team has helped my confidence grow and really enjoy the role."
By: Ellen Thomas
Last updated: Monday, 13 September 2021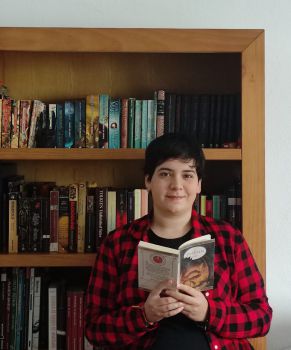 Hi Angeles, tell us a bit about yourself!
I moved from Spain to the UK about four years ago to pursue my interest in museum and galleries. Before then I was studying for my Undergraduate in Fine Arts from the University of Granada, Spain. After volunteering in a national museum, I felt like I needed to boost my academic understanding to pursue a career in museum curating. After a colleague recommend Sussex, I did some research and found the MA in Photography and Museum Curating. Having had a gap between my courses means I want to make the most of my time both academically and personally.
Why did you become a Postgraduate Ambassador?
I wanted a part time job where I could use my student voice whilst focusing on my Masters. I knew I only had one year to study the MA and I thought within that time Icould make a difference by being an ambassador. Working postgraduate events and speaking to students felt like I could use my experience to make an impact in a short space of time. I also thought ambassador role would give me some good transferable skillsfor after my Masters.
What does your ambassador role involve?
Since starting the role, I have done more than I expected. One of my favourite jobs is being part of the live online student panels as I've been able to share how I discovered Masters and what I've learnt over the year. I've also been involved in; calling future students, answering questions on Unibuddy, supporting online events, research and creating social media content. During the year the Postgraduate team also invited me to a feedback sessions and social media workshops. In these workshops we were asked about experiences before starting our course and then collaborated on online content.
How to you balance your time?
I think any Postgraduate course requires you to be flexible and make time for study, classes, socialising and work. With my ambassador role I can often fit it in around my studies and there is no commitment to working a set number of hours every week. The shifts are emailed out in advance and then I choose the ones that work around my schedule. It's also been important for me to have the work as it provided a break from my studies.
Where did you hear about the role and what was the recruitment process like?
I first met the PG team at the virtual part-time jobs fair that the Careers team held. I booked a slot in advance and then video chatted one to one at the event. Later in the day I received an email from the PG team inviting me to an online interview. The interview was relaxed, and we spoke about what I thought I could bring to the role and the type of work involved. Once I found out I was successful I was invited to an induction and training session to prepare for the work. Throughout the year each time I've been given a new piece of work I've received a briefing and training where needed. The support from the team has helped my confidence grow and really enjoy the role.
What skills have you learnt?
Taking on roles I had never done before has made me feel more confident not only in my work but also personally. I am able to do more things that I didn't know I could do. The role is so varied, so I've had the opportunity to try new things like calling future students and developing online content. My main take away is that just by having a relatable experience I am able to make a difference.
Is there anything you have found challenging?
Over the past year I have studied alone a lot and we have had to work online. At first being online
was quite daunting as
I couldn't see the students' watching our talks or using the live chat. However,
it's also meant that I can work anywhere which has made the balance of study, work and personal
life much easier.
What advice would you give to applicants?
Be yourself, t
ake on roles that challenge you and know that you can do your course and succeed
outside of your studies.
How will the ambassador role impact your future?
I think my main take away is the change in my confidence. I have developed so many transferable
skills and been encouraged to take part in work that sat outside roles I'd done before. I hope I can
take this confidence forward to secure work after my Master
s.