Find out about your student ID card, where and when to collect it and what to do if you lose it.
About your student ID card
You should carry your student ID card with you whenever you're on campus or at a University event. It's the size of a credit card.
It's the card you use to access the Library and is required identification for sitting exams.
Your student ID card has several identifiers and is unique to you, so don't lend it to anyone else.
Elements of your ID card
Your ID card contains your:
name
date of birth
photograph
registration number
candidate number
person code
barcode number.
It also outlines whether you're full-time or part-time, your level of study and the valid dates of your ID card.
Select the image to view it in a separate tab.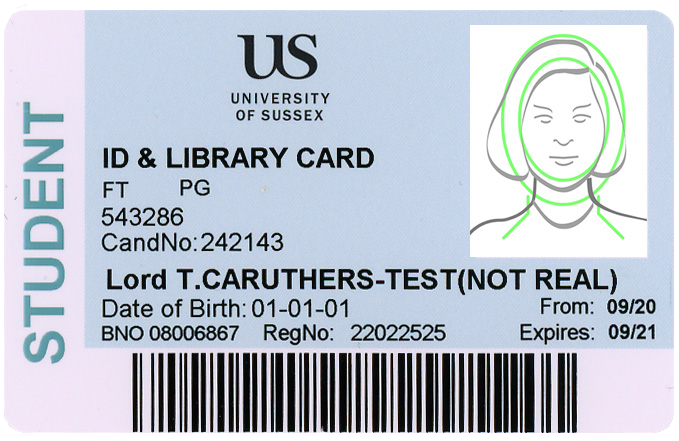 It's not a student discount card
Your Sussex student ID card is not the same thing as the TOTUM card you get as a member of the Students' Union or an ISIC card.
Online Distance Learning
If you are studying remotely as an Online Distance Learning student, you won't automatically receive a student ID card.
If you want to visit campus or access on-campus services, email your Student Success advisor to request a student ID card: studentsuccess@sussex.ac.uk.
Getting your student ID card
If you have a UK address, your student ID card will be sent to your home or term-time address after you have completed registration.
If you have a visa, you collect your biometric residence permit (BRP) along with your student ID card from campus. You will be emailed a link to book an appointment to collect them.
If your BRP is sent to a UK-based address or a post office, you will still need to book an appointment with us to get your student ID card.
Getting a replacement student ID card
To get a replacement card, contact the Print Unit.
If you decide you want a different picture on your student ID card, a reprint costs £10.
Lost, stolen or damaged cards
If you lose your card, or think it has been stolen, you should email library.membership@sussex.ac.uk.
You'll have to pay a replacement card fee for lost or damaged cards, but won't be charged if your card was stolen and you can provide a crime reference number from the police.
Transferring to a new course
If you transfer to a new course with a different end-date, you'll need to replace your card but you won't be charged.
Withdrawing from a course
If you temporarily withdraw from your course, you can keep your student ID card, but you must inform the library membership services. When you return to Sussex you must get a replacement card which shows the new end date for your course. You will not be charged.
If you permanently withdraw from your course you must hand your student ID card into the Student Systems and Records Office.