The Student Centre is at the heart of the student experience at Sussex
Your space on campus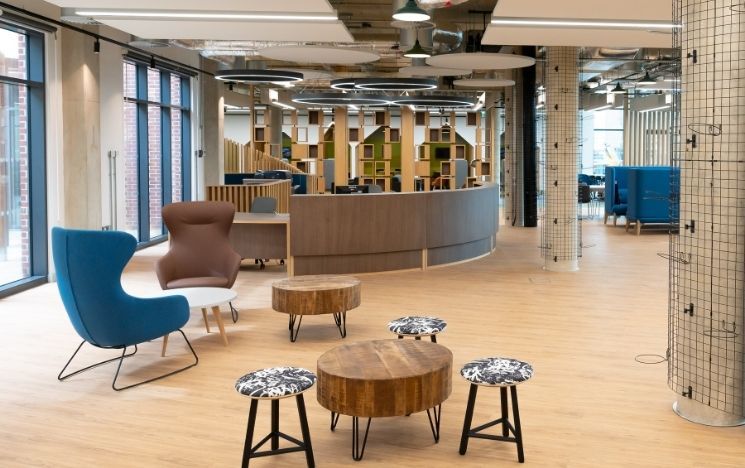 The Student Centre is the go-to place for you to access face-to-face information, advice and guidance services.
The building opened in April 2022 and will be fully operational by September 2022.
The Student Centre is a great place to meet other students and study individually or in groups. The variety of spaces means that you can find places to discuss ideas and talk with friends while other areas lend themselves to quieter working and calm.
The facilities include:
spaces for workshops and group work
rooms for confidential advice sessions and meetings
flexible spaces for students to meet and collaborate
heat and eat facilities
a coffee tuk-tuk
a beautiful and peaceful courtyard garden to relax in and enjoy.
We worked with Student Connectors on the design and use of the building, as well as the services to be delivered from it. During the summer term of 2022, we'll continue to gather feedback from students and the staff working there to make additional improvements before the official launch in September.
Student Centre code of conduct
We want to create and maintain a safe, respectful environment and a positive student experience. Our code of conduct is to make sure everyone is aware of what conduct and behaviours are expected when working in and using the Student Centre.
Read our Student Centre code of conduct [PDF 294KB] to understand the standards we expect from students, staff and visitors.
Accessibility
The Student Centre is accessible to all. It includes a lift to the top floors, accessible toilets and a changing place.
If you have concerns about the accessibility of an area, email studentcentre@sussex.ac.uk.
Using technology
There are lots of plug sockets around the centre to charge laptops and phones and screens to cast to in the beach huts and within the huddle furniture – that's the big sofa with very high backs.
There are also four touchdown PCs for students to use near the Heat and Eat area, and you can borrow laptops and chargers from the Library.
There are no printing facilities in the Student Centre.
Food
The Student Centre has two designated sitting areas where you can eat and have hot drinks:
The Heat and Eat area has three microwaves for you to heat your own food, a boiling water zip tap and a sink. There are also three vending machines with snacks and hot and cold drinks on sale.
The Café area near the main entrance has a coffee tuk-tuk where you can buy hot drinks during working hours. There are also two digital screens where you can order food to be delivered to the Student Centre.
Both areas include tables and seats where you can enjoy your food and hot beverages with friends or on your own. You can have cold drinks anywhere in the building, but we ask you to have food and hot drinks only in these two areas to prevent spills and food smells.
Booking rooms
Any events held in the Student Centre must be for students or student-related.
During the first few months, we'll monitor how the spaces are used and what the demands are, and we'll gather feedback from students and staff. This data will help us organise the booking of rooms and spaces in future, making sure you get the most benefit from all spaces.
Shops
Union Arch, a shop managed by the Students' Union, is open now.
The following shops open in September:
the University Pharmacy
Taj the Grocer
Liberty Glasses.