Robin Banerjee appointed Pro-Vice-Chancellor (Global & Civic Engagement), Alison Pike to head School of Psychology
Posted on behalf of: Internal Communications
Last updated: Friday, 9 June 2023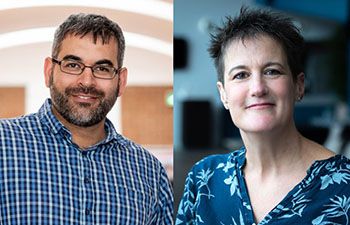 Please see the message below from our Vice-Chancellor, Professor Sasha Roseneil:

I am delighted to announce that Professor Robin Banerjee, our current Head of the School of Psychology, has been appointed as our first Pro-Vice-Chancellor (Global & Civic Engagement), and that Professor Alison Pike, currently Deputy Head of the School of Psychology, will replace him as interim Head of School.
Robin, who started at Sussex as an undergraduate, brings deep knowledge of, and passionate commitment to, our Sussex community to this pivotal leadership role, after more than 20 years of teaching and research here. After his undergraduate degree, Robin stayed on at Sussex for his doctoral studies, becoming a Lecturer in Psychology in 2002, progressing to Professor of Developmental Psychology, and becoming Head of the School of Psychology in 2019.
Robin's research focuses on the social and emotional development of children and young people, and he works closely with practitioners and policymakers in the areas of education and mental health. He founded the Sussex Centre for Research on Kindness, an interdisciplinary research centre focused on illuminating the nature of kindness and its impacts on people and communities. Robin recently led the world's largest ever public science project on kindness, The Kindness Test, in partnership with the BBC.
The role of Pro-Vice-Chancellor (Global & Civic Engagement) is a new one, as I explained in my VC Reflections in March. In his new role, Robin will be the University's strategic lead on our local and global engagement. He takes up his new role with effect from1 September 2023.
Robin said: "I am excited about taking on this new role at Sussex focused on global and civic engagement. Since its founding in 1961, our University has had a unique and influential profile in local, national, and international contexts. With our amazing community of staff and students, I know that we will be able to consolidate and significantly strengthen our position as a truly engaged partner across multiple sectors, in Sussex and around the globe.
"Over the last few years, it has been a real honour and pleasure to lead one of the largest and most academically diverse communities of psychology staff and students in the country. I know my wonderful successor Alison Pike will take forward our cutting-edge research and education in new and exciting ways."
It is with great pleasure that I can also confirm that Professor Alison Pike has been appointed as Interim Head of the School of Psychology. Professor Pike, a Professor of Child and Family Psychology, has been Deputy Head of the School of Psychology for the last four years. She will, I am certain, continue the world-class teaching and research in the School.
Alison said: "For the past four years I have worked as Robin's Deputy as he has led Psychology through a period of rapid growth in the context of a global pandemic — all with unwavering enthusiasm and kindness. It is a privilege to have the opportunity to take over as Head of School and continue realising our research, teaching, and community engagement strategy.
"I look forward to working with colleagues in the School to take full advantage of the fantastic talents within what is now one of the largest communities of psychologists in the country. My aim is to foster an environment that enables staff to leverage their diverse skills and interests to the betterment of our students as well as the wider world."
Professor Sasha Roseneil, Vice-Chancellor