Develop the skills, knowledge, connections and passion to meet the global sustainability challenges we face – and help us become one of the most progressive and sustainable universities in the world.
Recycling competition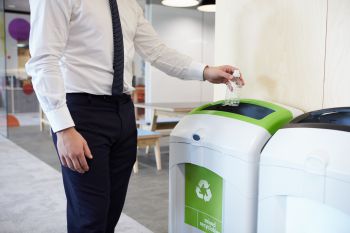 You could win up to £500 for helping your fellow students improve their recycling.
Enter the Recycling Info Genius Competition to design our recycling information and posters on campus.
There are three cash prizes for the best entries: £500 for first place, £250 for second place and £100 for third place.
If you win, your work will also be promoted by the University and you will have a lasting record of your creativity and innovation that you can reference and share to help with future employability.
How to enter
The competition opens for entries from 3 March 2022.
You'll create content either:
how to recycle A3 photo signs for our external recycling bins
awareness-raising material for students as videos, and web content that will form part of new student inductions and education of our existing campus population, such as through social media. You can generate this content through a medium of your choice such as TikTok, YouTube, Instagram, physical posters or QR code linked web content.
Undergraduate and postgraduate students can enter, as individuals or as teams of up to four people across different schools and subjects.
What we're looking for
Winning entries are likely to meet the following criteria:
increase recycling rates on campus – making sure that people know where to recycle things and how to do it correctly
encourage a reduction in the volume of overall waste produced e.g. by encouraging greater reuse of items as opposed to purchase and/or disposal
support the implementation of the University of Sussex Waste Reduction, Reuse and Recycling Policy [PDF 174KB]
be fun, innovative, creative and engaging so that students will want to engage with the content, remember and share it with friends.
Entries will be judged by a panel of sustainability, waste and behaviour change experts.
You can view a report by Veolia on campus waste and how much gets recycled [PPTX 24MB] for more insight on recycling rates.
Next
The competition closes on 29 April 2022 and winners will be announced soon afterwards.
If you have questions, email sustainable@sussex.ac.uk.
---
Pitch for the Planet
Our annual Pitch for the Planet student innovation competition gives you the chance to win a share of £20,000 funding and a coveted spot in our summer accelerator programme to help you develop a sustainability idea.
The shortlisted students appeared at a Pitch for the Planet event at ACCA on Friday 4 March 2022.
---
COP26 Climate Leader prizes
We announced three £3,000 COP26 Climate Leader prizes.
Students who show outstanding climate leadership in the run-up to and after the UN Climate Change Conference (COP26) could win one of the prizes. By "outstanding climate leadership", we mean making a personal contribution as an activist, influencer, organiser or innovator towards sustainability.
The deadline for entries was 1 February 2022.
A panel of sustainability and communications professionals will select the successful applications.
The winners will be announced at the Pitch for the Planet event on Friday 4 March at ACCA.
See the Climate Leader prizes terms and conditions [PDF 141KB].
---
Other ways to get involved
There are many ways to get involved in sustainability at Sussex, from your studies to putting time towards local causes.
Be a champion
We're recruiting a network of volunteers to get involved in implementing our Sustainability Strategy.
Find out how you could become a Sustainable Strategy Champion.
Climate Leadership scholarships
If you're an undergraduate student thinking of doing a Sussex Masters course, you can apply for a Sussex Climate Leadership Scholarship worth £3,000 a year.
EcoGo app
Download the EcoGo app to keep track of your travel and earn reward points for using sustainable transport options.