View Flint articles from previous issues and catch up on anything you've missed.
---
Society of the month: SMUTs (Sussex Musical Theatre society)
Posted on behalf of: Student Communications
Last updated: Monday, 21 March 2022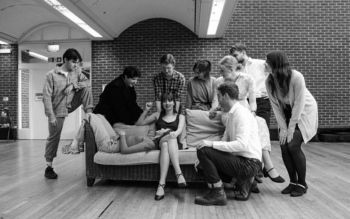 This month, the Societies Committee would like to celebrate the hard work of SMUTs, the musical theatre society.
Every year, the society plans and performs an amazing musical, which sees hundreds of students, staff and members of the local community in attendance.
At the end of February, SMUTs performed Company in the Attenborough Centre for the Creative Arts, their first show since lockdown began two years ago!
The new committee, with less experience in show-running than in previous years, worked incredibly hard to put the performance together. The cast and crew, made up entirely of students, dedicated late evenings and long weekends for rehearsals, set and prop making, choreography and tech set-up.
From the director of the show: "Thank you to our incredible cast, band, production team, and crew - we were truly up against it and I'm still impressed by their dedication and willingness to overcome every obstacle we had thrown our way. Company will always have a very special place in my heart! SMuTS has been an unbelievably enriching part of my life this year, and I strongly recommend anyone interested in theatre to come along and get to know us."
Their next show And That's What You Missed: The Musical (a Glee parody) will take place in the Debating Chamber from 29 to 31 March. Get your tickets at tinyurl.com/smutsdoesglee
And they've planned numerous socials and cabaret nights for the rest of the semester! For more information, check the SMUTs Facebook page.