View Flint articles from previous issues and catch up on anything you've missed.
---
Freedom Day – new perspectives on apartheid from the BLDS Legacy Collection
Posted on behalf of: Student Communications
Last updated: Monday, 9 May 2022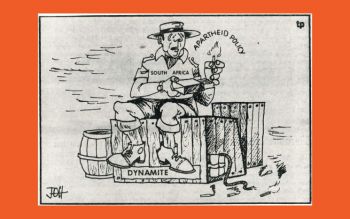 Freedom Day is the anniversary of South Africa's first post-apartheid elections and was commemorated on Thursday 28 April. Our British Library for Development Studies (BLDS) assistant, Daniel Flowerday has written a post for the Collections Blog about the wealth of material we hold on the topic.
Our library team has been working through the materials in BLDS Legacy Collection, in particular on apartheid in many of the countries covered in the collection. The materials provide insight into apartheid and the ongoing debates in Global South countries regarding the regime in South Africa. They also demonstrate the potential for our BLDS Collection to provide multiple, often overlooked, perspectives on global events from viewpoints outside of the Global North.
Our latest blog includes materials from several African countries, including some scathing cartoons; from further afield in Guyana and India; and from a particularly striking women's journal from within South Africa.
Worth noting is, in much of the material, the issue of apartheid is not merely treated as a singularly malignant situation, but rather as being part of a wider 'struggle for liberation' across Southern Africa – one with links to similar liberatory struggles around the globe. This wider focus speaks to the value of being able to access perspectives about apartheid from outside of the Western world.
We hope by highlighting just some of the material the collection holds on apartheid and wider liberation struggles, researchers will be encouraged to get in contact and see what the collection has to offer.
If you are interested in finding out more, please contact the Library at bldslegacy@sussex.ac.uk.
Read the full blog to learn more.