View Flint articles from previous issues and catch up on anything you've missed.
---
Final Career Lab opportunities for the year recruiting now!
Posted on behalf of: Student Communications
Last updated: Monday, 9 May 2022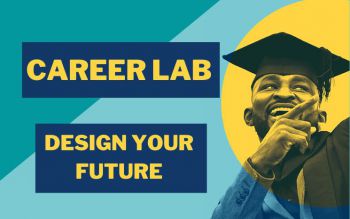 The Career Lab Programme is now recruiting second and final-year undergraduates for its final opportunities of the year. We wanted to give an overview of what you can apply for now, or what you may want to apply for next year.
Digital Accelerator – Deadline 13 May 2022
Open to final-year undergraduate students
Want to add essential digital tools to add to the list of skills on your CV? Then the Digital Accelerator is exactly for you.
You'll complete a free diploma worth £2,600 with Brighton-based Creative Process Digital, covering Photoshop, InDesign and web design with Wix over three weeks. So, if you want to build a creative CV, fine-tune your networking and presentation skills and understand what opportunities are available in digital sectors while also gaining new creative expertise, apply for the Digital Accelerator Programme today.
Sussex Graduate Kristina took part in the Programme last year and told us the following: "the Training taught me to create a WordPress web portfolio to showcase my work and help me develop my Adobe InDesign skills. This impressed my employer and helped me get my current job, where I use WordPress and InDesign skills every day."
Full details and apply on the Digital Accelerator website.
Summer Consultancy Programme - Deadline 18 May 2022
Open to final-year undergraduate students
The Summer Student Consultancy is a continuation of our very popular Consultancy Programme, taking place in June 2022.
Working in teams full-time over one week in June, you'll listen to a client's business challenge, research and analyse solutions, and present your findings back to your employer. You will also receive a bursary of up to £245 for your time.
Previous challenges have involved improving an organisation's social media presence, reviewing and recommending sustainability practices, investigating and testing potential new products and services, and supporting a business recovery.
Apply now on the Student Consultancy website.
Online Global Summer Internship Programme – Final deadline 26 May 2022
Open to second and final-year undergraduate students
Ever wondered what it's like to work for a global organisation? The Online Summer Internship Programme enables second and final-year undergrads the opportunity to do just that, from wherever you choose.
Organised by Virtual Internships and with over 100 opportunities available, you'll be matched with a relevant organisation, working up to 30 hours per week. You'll receive full support during your internship, including all programme fees covered and a contribution of £305 towards your living costs.
"Working in a professional (virtual) environment boosted my confidence and made me recognise the skills that I have to offer to future employers" – Sussex student Isabel
Find out more and apply on the Global Internships website.
UK Internship Programme – Deadlines vary up to 31 May 2022. Check listings for details.
Open to second-year undergraduate students
And finally, we also have over 100 exclusive UK internships available to second-year undergraduates.
You'll undertake a paid six or eight-week internship with a UK based employer during the summer vacation. Most internships will be in Sussex or the Southeast, but there is a mixture of office-based, 100% remote-working or hybrid roles depending on the employer.
Internships are an ideal way to discover career options and sample a job in your sector of choice before you graduate.
All internships are paid at least the real Living Wage (£9.90 per hour UK rate and £11.05 per hour London rate) and you will be working on real projects.
Find out more and apply on the UK Internships website