View Flint articles from previous issues and catch up on anything you've missed.
---
Startup Sussex Competition
Posted on behalf of: Student Communications
Last updated: Tuesday, 24 January 2023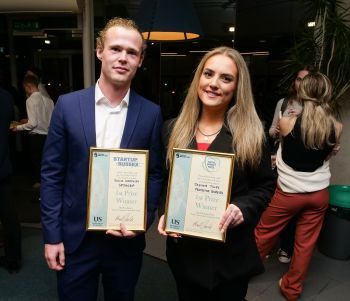 Startup Sussex is the University's annual Entrepreneurship competition, providing students with the opportunity to win up to £10k to fund their business idea or social enterprise, as well as high-quality business support. Previous winners include Darren Tenkorang, founder of TRIM-IT and Molly Masters, founder of Books That Matter.
Entry into the competition is open to all current students of the University, along with graduates up to 3 years post-graduation. We encourage all students with ideas to apply. You'll need to submit a Business Model Canvas and a pitch-deck, and you'll receive support from the University's Entrepreneurship team to develop your application through various workshops, events and mentoring opportunities running throughout the Spring term. Sign up to our Newsletter to find out more.
While Startup Sussex prioritises high-quality ideas and viable business plans, it also rewards those who want to create a better world, with additional prizes on offer for social impact and startups that address the United Nations' Sustainable Development Goals.
Applications open on the 31 January, and there will be a launch event on Thursday 16 February, 5:00-7:00pm, to support anyone keen to enter and answer questions. The closing date is the 16 March 2023.
For further details on this opportunity, and to find out how the Entrepreneurship team can help you, sign-up to our Newsletter or drop us an email below: