Read the most common questions about the strikes which are planned to take place at Sussex between 20 February and 13 March 2020.
Essential information
These are some of the questions relating to the industrial action.
When exactly are the planned strike days?
The proposed action will take place:
Week one – Thursday 20 and Friday 21 February
Week two – Monday 24, Tuesday 25 and Wednesday 26 February
Week three – Monday 2, Tuesday 3, Wednesday 4 and Thursday 5 March
Week four – Monday 9, Tuesday 10, Wednesday 11, Thursday 12 and Friday 13 March.
How will this affect my classes?
We will do everything we can to minimise the impact on your education. Your lecturers/tutors may notify you if they are going on strike and are cancelling a class, however they are not legally required to do so. We advise you to continue to attend your classes as usual unless you hear otherwise.
How will I find out if my classes are cancelled or rearranged?
Check Sussex Direct and/or Canvas to see if your lecturer has given advance notice that your class is not taking place.
Will I be able to get on to campus?
Yes, the campus will be open as normal, including the library and cafes. We expect there to be a small number of striking staff at the two entrances to campus. This is known as a picket line. The picket line is organised by the union to encourage staff not to work and to join the strike. Pickets are not allowed to stop people entering campus and you will be able to walk through these.
Will this impact my assessments?
Assessments and examinations will be amended to ensure you are not assessed on any content that may not be delivered because of the proposed industrial action. Any assessments that were due to take place during the strike period, but did not take place, will be rescheduled to take place as soon as possible after the strike finishes on 13 March. You will be notified by your School if this is the case.
There will not be a change in deadlines for assessments due on strike days that are to be handed in through Turnitin or Canvas, unless you have been notified by your School.
Will I be penalised for missing lectures cancelled because of industrial action?
No. You will not be penalised for non-attendance where classes were cancelled due to the industrial action.
Will buses and trains be running as normal?
Buses will be travelling to the University throughout the industrial action.
We expect buses will come on to campus as usual after 3pm and continue until 7.30am the following morning.
Between 7.30am and 3pm they are likely to stop just outside campus on the A27 slip road and then near Falmer Station. For service updates, see the Brighton & Hove Buses website. We suggest you allow more time than usual to get to campus by bus.
Trains are due to run as normal on strike days.
Campus transport for disabled people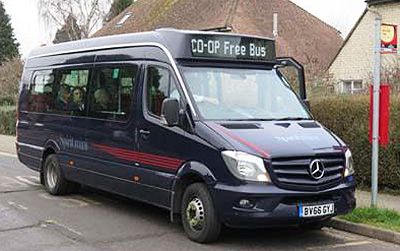 A free shuttle bus service (pictured) will be provided from 9.30am until 3pm for students and staff who need support accessing parts of the campus.
This will start at 9.30am from the North South Road bus stop (outside Pevensey 1) and complete a loop of campus approximately every 20 minutes. See the shuttle bus route [PDF 850KB] marked in red. The red circles indicate the shuttle bus stops.
You can show the driver a Helping Hand card, a Disabled Person's Bus Pass or a Sunflower Lanyard. Helping Hand forms are also available from the driver. This ensures those most in need can use the service.
If you have a disability and your access to campus is disrupted, contact the Student Support Unit on 01273 877466 or email disabilitysupport@sussex.ac.uk for assistance.
What is action short of a strike (ASOS)?
The University and College Union (UCU) has a mandate to carry out action short of a strike (or ASOS) until the end of April 2020. This most commonly means that staff members taking part in this type of industrial action will not undertake what they see as non-core activities (such as covering absent colleagues or taking part in voluntary activities). Therefore they may decline to do things that are not seen as part of their normal working practices.
Action short of a strike should not impact on your scheduled teaching. It also means that you can continue to speak with your tutors, arrange to see them or get the support that you need to complete your modules.
Can I request a financial payment because of the strike?
We will put in place measures to minimise any impact caused by the strike. However, as the strike action is still continuing we can't currently predict the impact it may have on students.
It is important to note that the University will remain open throughout the industrial action with many of the services that your tuition fees fund, such as the Library, social spaces, support services, the sports centres and the wide array of study spaces, open to all.
Once the industrial action is over, we will let you know more about our procedure to register a complaint.
Can students cross the picket line?
Yes, students can cross a picket line. Picket lines are allowed by law (the recommended limit per picket line is 6) and must operate peacefully.
Those on the picket line cannot prevent free movement so please don't feel anxious about getting around campus – you are entitled to move around freely and the picket line won't obstruct you from doing so.
The University will remain open and we are confident everyone will continue to be respectful and kind.