Some staff at the University of Sussex and many other universities are taking industrial action over February and March 2023.
What's happening
A trade union representing some University staff (University and College Union or UCU) has announced strike action.
This is happening on:
Wednesday 1 February
Thursday 9 and Friday 10 February
Tuesday 14, Wednesday 15 and Thursday 16 February
Wednesday 15, Thursday 16 and Friday 17 March
Monday 20, Tuesday 21 and Wednesday 22 March.
In addition, some UCU members may take another form of action known as action short of a strike (ASOS) until 20 April 2023. ASOS typically means staff carry out their core duties but do not take on any additional responsibilities (such as covering absent colleagues or taking part in voluntary activities).
While industrial action can mean disruption for some in our community, it is a legal right for Sussex staff members and we respect people's right to strike to improve pay, working conditions, and pensions. We remain committed to becoming an employer of choice and to improving our employment practices for all staff, and we are keen to continue to work on this with our three recognised trade unions: Unite, Unison and UCU. In October 2022, we reached agreement with UCU, following 16 weeks of negotiations, on a number of key issues relating to pay and working conditions.
We're committed to maintaining respect, safety and good relations between students and staff throughout any period of industrial action.
We will do everything possible to minimise the impact on your studies and the running of University services during any industrial action.
Attending teaching sessions
During UCU strike action, unless you have been told by your School or you have seen that a teaching session is cancelled on Sussex Direct or Canvas, you should continue to attend your lectures, seminars, lab sessions or other scheduled teaching activities.
Many students will not be affected by strike action and will be able to continue their teaching and learning as normal. Others may notice that some lectures and seminars are cancelled during industrial action due to staff choosing to go on strike.
Your lecturers and tutors may tell you if they are going on strike and cancelling a class, however they are not legally required to do so.
Regularly check Sussex Direct or Canvas to see if your lecturer has given advance notice that your class is not taking place.
You can continue to speak to your tutors, arrange to see them or get the support you need to complete your modules.
If classes are cancelled
We do not know how many members of UCU choose to go on strike. That is their individual right and decision to make.
This means we might not be able to warn you or cancel lectures or seminars in advance. If we know a teaching session is not taking place, we will inform you by sending a notification on the relevant Canvas module and/or cancelling the lecture on Sussex Direct.
If a lecture or seminar is cancelled due to industrial action, you will not be penalised for non-attendance.
If you come to campus and your class isn't happening, you can use the time for independent study.
If you have a visa
Your visa status will not be negatively affected by strike action. If any expected sessions (such as lectures) do not happen because of UCU strike action, this would not be your fault. We would make a record of this, so it does not count against you. However, it is important you come to campus as normal with the aim of attending your classes.
Assessments
We will adjust your assessments so you're not tested on topics or areas where you have not had corresponding teaching and learning.
You will still be able to achieve the learning outcomes of individual modules and your overall course.
The status of accredited courses remains unaffected by industrial action.
You will be able to continue your independent learning using materials provided online through Canvas.
The academic appeals process is available if you think you need it, following the confirmation of marks by exam boards.
In addition, your School may have its own arrangements in place.
Services on campus
All of our campus services, such as the Library, student support, 24/7 security, residences, receptions, school offices, catering and sports facilities, will remain open during the strike action period and provide services for students.
Buses and trains
There is overlapping, separate industrial action on the railway network on Wednesday 1 February and Thursday 16 March. On other UCU strike days, trains are set to run as normal.
Check the National Rail or Southern Railway websites for more information about planned train strikes which may affect your journey.
Buses usually travel to the University throughout industrial action.
We expect that buses will not enter campus between 6.30am and 3pm on strike days. Between 6.30am and 3pm (in other words, in the mornings and until early afternoon) buses are likely to stop just outside campus on the A27 slip road and then near Falmer Station.
For service updates, see the Brighton & Hove Buses website. We suggest you allow more time than usual to get to campus by bus.
Campus transport for disabled people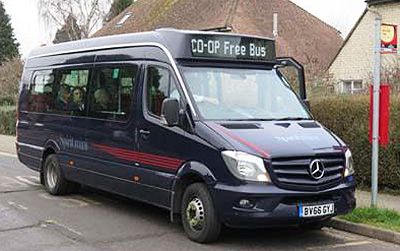 A wheelchair-accessible minibus (pictured) will be provided on strike days between 9.30am and 3.30pm.
The minibus will largely use the campus bus stops and will travel around the campus every 30 minutes. Check a map of the route [PDF 592KB].
The bus is free and can be used by anyone with access needs. Please show a sunflower/red lanyard, Helping Hand card or similar if your disability is less obvious.
If you have a disability and your access to campus is disrupted, find out how to contact Disability Advice and get more information.
If you are unable to get to campus using the above transport arrangements due to your disability, we can arrange a return taxi journey from your home to campus. Call 01273 075700 between 10am and 3pm.
Picket lines
We expect there to be a small number of striking staff at the two entrances to campus. This is known as a picket line.
Picket lines are allowed by law. They are organised by the union to encourage staff not to work and to join the strike.
Picket lines are not allowed to stop people entering campus and must operate peacefully.
You are entitled to move around freely, and the picket line won't stop you from doing so. If you feel you are unable to pass freely, please raise your concern with security.
More about the strikes
This latest strike action in relation to pensions is part of a national, long-running and complex dispute, and agreement about both USS and pay can only be reached at a national level.
Sussex is one of 150 universities where its members have voted in favour of industrial action over pay and working conditions, and one of 67 taking strike action in relation to pensions.
Both pensions and pay for many staff working at universities across the UK are set by national bodies. As such they are negotiated by teams of representatives who act on behalf of the majority of universities collectively.
Improving working conditions for staff
Improving the work environment for all staff is something we care about deeply – and a number of projects are underway to improve the working and study environments for staff and students.
As well as the recent agreement between the University and UCU on a number of key issues, we also announced a raft of measures totalling £6.6m to support students and staff in the light of the current cost of living challenges. We only have a certain amount of money and we need to balance delivering the best education and student experience for our students with the income we receive.
We hope we can build on our positive collaboration with UCU, helping us realise our shared ambitions to improve working life at Sussex and be a more diverse and inclusive community.
Communicating a concern
We are taking steps to make sure any disruption caused by industrial action is minimised as much as possible for our students.
It is important to remember the University will remain open throughout this period of industrial action. Many of the services your tuition fees fund, such as the Library and support services, remain open to all. In addition, a considerable amount of teaching and learning continues to take place.
Industrial action from 1 February to 22 March 2023
We recognise some students may wish to communicate a specific concern, based on their individual circumstances. Consequently, the University has put in place a dedicated procedure to address concerns.
This procedure is open from Thursday 23 March 2023 until midnight on Wednesday 18 April 2023.
Find out about the industrial action procedure (1 February-22 March 2023) and how to submit a concern.
Industrial action in November 2022
The University put in place a dedicate procedure to respond to concerns arising from industrial action in November 2022. The deadline for submitting a concern regarding this period was Wednesday 21 December 2022.
Find out about the November 2022 industrial action procedure.