Falmer House moat is full of water again
Posted on behalf of: SEF and Estates
Last updated: Wednesday, 13 November 2019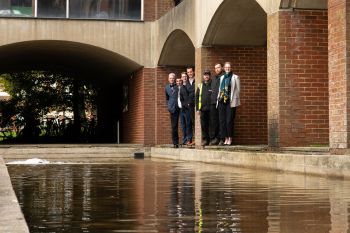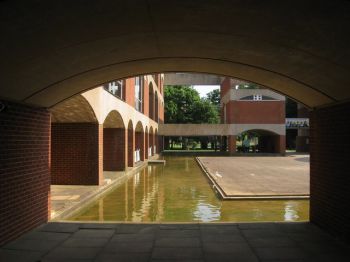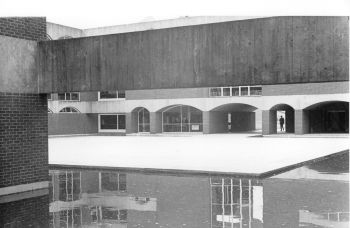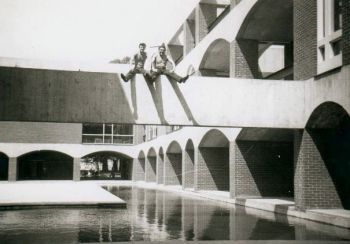 The Falmer House moat is full of water – and not because it's been raining so much over the last few weeks.
On Friday (8 November), water was pumped into the moat for the first time since 2015.
It was the culmination of two years of work by Sussex Estates and Facilities (SEF) and the rest of the Estates team in their ongoing project to restore the moat to its 1960s glory.
Designed by architect Sir Basil Spence, Falmer House opened in October 1962 – just a year after the first 50 students enrolled at the new University of Sussex.
As an architectural reminder of more ancient universities, the building was constructed around a central open quadrangle. Running around the inside of this quadrangle, a moat about 4.6m wide separated the three-storey structure from an inner courtyard. The clear, mirror-like surface of the water in the moat was designed to reflect the sharp contrasts of light and dark in the vaults above it.
Dan Hore, Partnership Director of SEF, says: "There's more work involved in maintaining a moat than you might think - especially one in a building that has been listed since 1993 for its 'exceptional' architectural interest. Our aim has been to bring the Falmer House moat back to how it's designed to be, while ensuring that it's manageable for the grounds team to maintain."
Particular credit goes to SEF mechanical engineers Marlon Johnson and Dave Curran, who serviced the non-functioning electric pump and got it working again.
The final task was to jet wash the moat; this was the job of SEF groundsmen Guiseppe Condello and Mark Henson. From now on, SEF grounds staff will net the water every week to clear it of any floating debris.
And to prevent the water from stagnating, SEF will be using a chemical that won't harm any wildlife who visit the moat.
It was originally planned that the moat would be stocked with fish and plants – but in 1964 the University's governing Council ruled out these plans.
That doesn't mean the moat hasn't had other uses, though: 1960s alumni who attended a campus reunion a few weeks ago recalled that they were "enthusiastic members of the caving club and used the moats (in the dark) to practice"!
When the moat was empty, its main function was as a shortcut between the Students' Union shop and the Tuesday market stalls.
The newly filled moat clearly has the 'wow' factor, with passers-by variously proclaiming the transformation as "exciting", "cool" and "amazing". "It's supposed to be like this," said one, approvingly.
And as for inclement weather: when it rains, a sensor will let water out, to keep the depth consistent at about 12 cm.