Student inventor of marine bioplastic wins International James Dyson Award 2019
By: Neil Vowles
Last updated: Thursday, 14 November 2019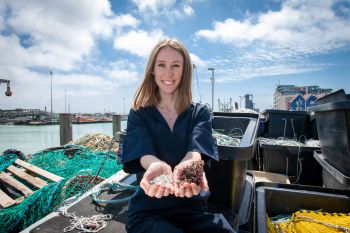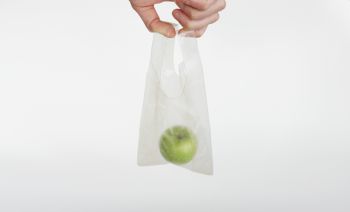 University of Sussex student Lucy Hughes has been announced as the winner of this year's international James Dyson Award.
The 24-year-old from Twickenham is attempting to solve the problem of both single-use plastics and inefficient waste streams by harnessing fish waste by creating a unique plastic alternative which she developed as her final year project for her Product Design course.
MarinaTex is a bioplastic made of organic fish waste ordinarily destined for landfill or incineration and locally sourced red algae. It is a translucent and flexible sheet material, making it ideal for applications in single-use packaging.

While it may look and feel like plastic, its similarities end there. Using a unique formula of red algae to bind the proteins extracted from fish waste, MarinaTex has strong overlapping bonds giving it strength and flexibility.

The material is relatively resource-light, requiring little energy and temperatures under 100 degrees to produce.

It biodegrades after four to six weeks, is suitable for home composting and does not leach toxins, removing the need for its own national waste management infrastructure.

As MarinaTex uses byproducts from the fishing industry, it helps to close the loop of an existing waste stream for a more circular product lifespan. According to Lucy, one Atlantic cod could generate as much organic waste as is needed for making 1,400 bags of MarinaTex.
Sir James Dyson said: "Young engineers have the passion, awareness and intelligence to solve some of the world's biggest problems. The James Dyson Award received some thought-provoking ideas this year – and more female entrants than ever – making the judging very difficult.

"Ultimately, we decided to pick the idea the world could least do without. MarinaTex elegantly solves two problems: the ubiquity of single-use plastic and fish waste. Further research and development will ensure that MarinaTex evolves further, and I hope it becomes part of a global answer to the abundance of single use plastic waste."

Unwanted offcuts from the fish processing industry creates a huge waste stream. These offcuts compromise of offal, blood, crustacean and shellfish exoskeletons and fish skins and scales – the bits that end up in landfill rather than
on our plates.

Through extensive research, Lucy found that fish skins and scales were the most promising materials to form the basis of a bioplastic as they contain strong and flexible protein structures.

In order to allow these proteins to attach to one another to create a brand new material, Lucy set about finding an organic binder.

Keen to keep the solution local in order to reduce transportation, she looked to the coastline on her doorstep, experimenting with different organic marine binders but finally settling on agar.

It took over 100 different experiments to refine the material and process, most of which she did on the kitchen stove in her student accommodation. She finally created a consistent and plastic-like material that was both biodegradable and translucent, MarinaTex.

Lucy said: "Plastic is an amazing material, and as a result, we have become too reliant on it as designers and engineers. It makes no sense to me that we're using plastic, an incredibly durable material, for products that have a life-cycle of less than a day. For me, MarinaTex represents a commitment to material innovation and selection by incorporating sustainable, local and circular values into design.

"I'm so delighted that MarinaTex has been recognised by the James Dyson Award. The invention is still in its infancy and I never thought it would make it to this stage, so it's really encouraging to have the potential of the material acknowledged by such a prestigious award. I'm excited to now have the chance to undertake further research and development to explore all of the possible uses of MarinaTex, taking into account form, function and its footprint."

This year marked the 15th year of the James Dyson Award, which is open to student inventors with the ability and ambition to solve the problems of tomorrow.

This year, the award has also seen its highest number of female entrants in the Award's history across all 27 participating nations.
As international winner of the James Dyson Award, Lucy will receive £30,000 while the University of Sussex receives £5,000.

Lucy now aims to commercialise her invention sustainably, using her award money for further research into how MarinaTex can become a global answer to the abundance of plastic waste while still harnessing local solutions.