This Sussex Life: MSc student, Phoenix Turoci: "It felt natural to come back to Sussex"
By: Jacqui Bealing
Last updated: Thursday, 21 November 2019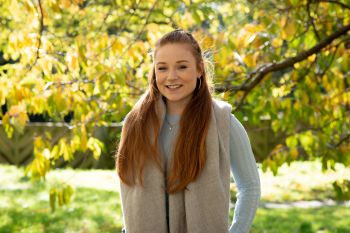 Californian student Phoenix Turoci loved Sussex so much while taking a Physics Summer School in 2018 that she returned to campus this year for a Masters degree.
The summer school programme gave me a good opportunity to study abroad. I was a pre-med student at the University of California campus in Berkeley, which Sussex has a partnership with, and the eight-week intensive physics programme is deemed as equivalent to two terms of physics at Berkeley.
I was staying in Northfield, which was really fun. I was so excited about the dorms because you get your own room and bathroom here. For my undergraduate degree in Berkeley I was in one room with two other girls that was connected to a double and a bathroom. So I shared a bathroom with four other girls. That was a mini suite, and we were lucky. Others have to share a bathroom with a whole hall.
Berkeley, which is in the San Francisco Bay Area, is very hippy, very out there. When I came to Brighton last summer a lot of people said it's very similar, but in some ways even more out there. So that wasn't really a big change for me. It does feel like I'm at home. I feel that Brighton is the butt of a lot of jokes in England, and the same is true of San Francisco!
Through taking the physics programme, I got a window into how science classes were taught at Sussex. I am not a physicist but I did like it. It was really challenging and hard, but I see why physics would be a requirement for medicine and doctors in training because, within the body there are so many forces and concepts that interplay. It was about rules of force and rules of gravity.
Every weekend we would go to a new places to make the most of being abroad. I had been to London so many times in my life because Dad took us travelling throughout my childhood and adolescence. And I had backpacked the previous summer around Europe, doing all the touristy places. So this time it's been nice to see different parts of England - Manchester, Yorkshire, Bristol. I've just been to Finland as I wanted to see the Northern Lights.
It was also a novelty to take trains and buses, because in California you drive everywhere. I like not having a car, but it's also frustrating to rely on public transportation. I like it here because it's not home but it's similar.
What I love about Sussex is that it very much feels it's for the students. I like that all of the professors know your name almost immediately, and the administration is tailored for the students. I like how small it is. I feel taken care of. And I love how pretty the campus is, particularly in the fall. We don't get these colours in California.
It felt very natural for me to come back to Sussex to do my Masters in Genetic Manipulation and Molecular Cell Biology. I wasn't done with England and Brighton, and it's a really nice science degree. I'll feel more prepared for medical school. I have the opportunity to do a research project, and to re-familiarise myself with the stuff I did three years ago.
My MSc is a lot of lab research work about bacteria, but it is more suited to my general interests in biology. The skills that I am learning in this course will really help me with my ambition to go to medical school. I am interested in anaesthesiology – I shadowed someone who showed me what a day in the life was like for an anaesthesiologist. I like how much physiology is involved with it.
I feel now that I am getting a lot of things out of the way which I wouldn't have done had I gone straight into med school, such as going abroad and doing a Masters. I feel that I have really matured and have got to the point where I am ready to step in and do the medical degree. In America you do four years of undergraduate, or pre-med degree, followed by a four-year medical degree.
I've taken three years out in total, including the MSc, so will be 29 or 30 by the time I finish. I don't mind. A lot of my friends are in jobs and working 9-5. Part of me is jealous, but if you are only 23 and you are already hating the grind then that's sad. I felt that I wanted to take opportunities in my 20s to be transient and travel the world before I have a family and a career.
This profile is part of our This Sussex Life series.