Rooting for the future: how the public can help to reflower our landscapes
By: Stephanie Allen
Last updated: Thursday, 25 June 2020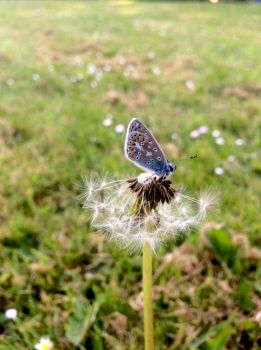 A University of Sussex researcher is calling on members of the public to help understand an ongoing question - how can we better manage the places we live and work to allow nature to thrive?
While many of us are aware of the importance of pollinating insects like bees, it can be difficult to see how we can help look after them. One practical solution is to grow more flowers to gives insects the food they need. However, planting flowers or allowing them to grow is sometimes more complicated than it appears, leading one researcher on a quest to understand whether some flowers might not be welcome – and why.
Veronica Wignall, who works at the University of Sussex, has launched an online questionnaire to find out what people know about wildflowers and why they have the perceptions they do.
She believes that by understanding this, steps can be taken to create pollinator-friendly landscapes that capitalise on positive attitudes and also recognise any possible barriers.
Veronica, a PhD researcher in Sussex's Laboratory of Apiculture and Social Insects, said: "By making a few simple changes to our landscape management and tolerating and encouraging overlooked wildflower species, we could provide huge resources for pollinators.
"But there is a human dimension to how we look after our landscapes too - that is why we need to know what people think and feel about wildflowers.
"There are many possible reasons why people may not notice or value certain flowers, including aesthetic, practical, traditional, and even sociocultural norms - such as removing dandelions due to neighbourhood pressure to have a tidy lawn!
"On the other hand, attitudes towards wildflowers or 'weeds' may be changing with an increased focus on the environment within mainstream media for example. We just don't know, which is why these survey responses will be so important."
With studies showing that interaction with nature improves mental health, there are also possible benefits for wellbeing, particularly in urban spaces.
Veronica added: "If we reflowered our urban spaces by allowing common wildflowers to grow – an easy management option, often attainable simply by mowing and strimming less – we can simultaneously look after mental and physical wellbeing. There are so many benefits to allowing nature to thrive in our everyday lives, and this survey will help us understand how to do this in a sustainable way that works for everyone."
The questionnaire is open to any UK resident until 12 July and can be found online. It takes approximately 15 minutes to complete and no prior knowledge is necessary.