Planned shut-downs of water supply on campus as major project nears completion
Posted on behalf of: University of Sussex and SEF
Last updated: Monday, 26 April 2021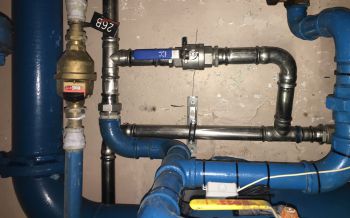 The Estates team are co-ordinating the concluding stages of a major project to protect the future resilience of the water supply on campus – and there will be some planned interruptions to water supplies during these final works.
The works during the nights of Monday 3 May (a bank holiday) and Tuesday 4 May will have little noticeable impact on most members of the campus community, particularly as the outages are taking place overnight from 11pm.
However, the Estates team have ensured that special arrangements are in place for particular buildings that may be without water for short periods of time.
These works are the final stages in the major project to upgrade the water infrastructure on campus, which has involved the construction of a new pump house by Pavilion Road (near the Falmer Sports Complex).
Francine Hill, Deputy Director of Estates, says: "To help minimise disruption in affected areas, we carried out considerable preparatory work before starting to make connections of pipework from our new pump house into the existing campus water infrastructure.
"We have carefully planned how and when we undertake these essential works, so that we interrupt the water supply to students and staff on campus only if it is absolutely necessary."
Students who are living on campus will receive direct information and updates on the arrangements. Campus residents with any questions can contact their reception.
Any other students or staff with questions or concerns about these works can contact the SEF Service Centre on extension 7777 (external: 01273 877777) or email service.centre@sef.fm.
The project provides vital new infrastructure for current and future needs. Francine Hill says: "This major investment will greatly improve the robustness and resilience of the water supply on campus.
"Both for normal operational requirements and in the event of any unplanned disruption, our programme of work aims to ensure maximum security of the water supply for students and staff."