Back on campus and Get Started
By: Maria Balboa Carbon
Last updated: Tuesday, 28 September 2021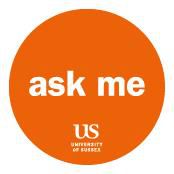 Today, 24 September, Kelly Coate, Pro Vice Chancellor for Education and Students wrote to all taught students, you can read the message in full below:
Dear students,
In this update you can find about:
Back on campus and Get started
Getting tested
Face coverings
Covid-19 vaccinations
Vaccination status survey
Registration for new and continuing students
International students and Biometric Residency Permits (BRP)
Telling us you're now here
Sussex Mobile app
Have your say on the next VC
Back on campus and Get Started
It's so exciting to see most of you back on campus this week. We hope you're enjoying the events we planned for you.

Explore our Get Started programme for new and returning student to get up and running in your first weeks of term.

Check your timetable on Sussex Direct to find the sessions organised by your School.

If you need any help, approach one of our staff ambassadors wearing an orange "ask me" badge around campus and they will be happy to assist.

Getting tested
The health and safety of our students and staff is our number one priority. For this reason, we strongly encourage you to take two LFD tests a week to protect everyone on campus.

Taking two tests a week increases the effectiveness of the test because they can miss positive results when someone is in the early stages of an infection.

You can collect free home test kits from multiple locations on campus.

And the testing centre in Bramber House is open every day from 10am to 2pm until this Friday, 24 September. Book an appointment or walk in.

Face covering
Thank you to everyone who has been wearing face coverings in many of our buildings. As a reminder we do expect they are worn in all teaching spaces and other crowded and enclosed areas. You'll see signage to clearly indicate where these spaces are.

Covid-19 vaccinations
Earlier this week, we had a pop-up vaccination clinic on campus. Hundreds of students took up this opportunity to get their first or second jab. If you didn't have a chance, walk-in vaccinations are taking place every day at Brighton's main vaccination centre in Churchill Square.

We strongly encourage all our students to get vaccinated and protect our campus community and those in the city.

Vaccination status survey
We'd be grateful if you could complete this brief survey about your vaccination status.

The data, which is anonymous, will inform us of the percentage of students who are fully or partially vaccinated (only 1st jab of a two-dose vaccine) and help us make the campus as safe as possible for everyone.

Registration for new and continuing students
If you've not already done so, please remember to complete the registration process. Don't forget that if you are funded by the Student Loan Company, any funds you are expecting can only be released once you have registered.

As part of the registration process you can also tell us if you are going to be delayed coming to campus

To be eligible to win the £5,000 vaccination prize draw, you need to be a fully registered student.

International students and Biometric Residency Permits (BRP)
If you are an international student awaiting your BRP, we'll email you to make an appointment to arrange collection once we've received your BRP and you've uploaded all required documents to the online registration system.

Telling us you're now here
If you originally told us you were going to be delayed coming to campus when you registered and you are now here, you can amend your answer in Sussex Direct. Go to your personal details page on Sussex Direct and click the 'I can now study in person' button

SussexMobile App
Remember to download the SussexMobile App on your phone in preparation for next week, as you'll need it to register your class attendance. It will also give you access to your emails, course timetable and library loans.

Have your say on the next VC
Finally, Adam Tickell is stepping down in January and we want to know what you think are important characteristics required in our next permanent Vice-Chancellor.
With best wishes,
Kelly
Kelly Coate
Pro Vice-Chancellor for Education and Students