The University of Sussex launches COP Climate Leader prizes for current students
By: Maria Balboa Carbon
Last updated: Tuesday, 2 November 2021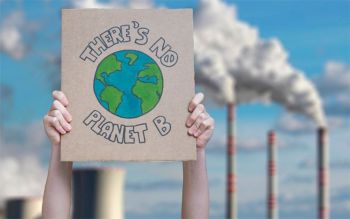 Have you been inspired by Greta Thunberg and other young activists to raise awareness about the climate crisis? Perhaps you:
encourage others to sign up to sustainability pledges
run sustainability/climate campaigns or a student society
or have formed partnerships with charities and community groups
As part of our sustainable strategy, we're announcing three £3,000 COP26 Climate Leader prizes.
The competition is open to current undergraduate and postgraduate students at the University of Sussex. Applicants will need to show outstanding climate leadership in the run-up to and after the UN Climate Change (COP26), which is taking place next month in Glasgow.
A panel of sustainability and communications professionals will select the successful applications. The winners will be announced in spring 2022.
Students will be able to apply via an online web form that will open on 1 November 2021 and close on 1 February 2022. Find out more information about the competition and the application process.
We're also creating a minimum of five annual Sussex Climate Leadership Scholarships worth £3,000 per year from the 2022–23 academic year onwards.
The scholarships will be available to both undergraduate and postgraduate UK students, with a minimum of two scholarships available for new undergraduates and two for Master's students. The window for applications this year will open on 1 November 2021 and run until 1 July 2022.
Professor Rachel Mills, Provost at the University of Sussex, said: "The climate scholarships and prizes are one of the ways we will deliver our sustainability strategy. Our vision to be one of the most sustainable universities in the world is powered by our staff and students and I am delighted that we can support the next generation of climate leaders and sustainability champions with these generous scholarships."
The prizes and scholarships are part of our programme of sustainability activities. Earlier this month, we launched the Film for COP26, a short video competition to amplify young people's voices on the climate emergency and influence delegates at the COP26 summit. Sign up for the awards ceremony on 1 November and help choose the winning videos. Find out more about our Countdown to COP26 events.
The University of Sussex is committed to being one of the most sustainable universities in the world. You can learn more about our sustainability strategy and how you can get involved on our sustainability web pages.