"Opportunities to express my creativity and lead on exciting projects" in the new Graduate Connector role
By: Polly Wallace-Kruger
Last updated: Monday, 15 November 2021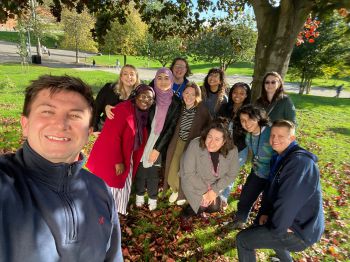 Over the past four months the Student Engagement and Enhancement (SEE) Team has been supported by a team of dynamic and thoughtful recent Sussex graduates, who were hired as Graduate Connectors. In the SEE team we run a variety of initiatives, including the Connector Programme, Spirit of Sussex Award, and Welcome Week. The SEE Team aims to champion inclusivity and togetherness and build a community where every student feels that they belong. We welcomed the Graduate Connectors into our team, and they were invaluable to our work over the four months.
The Graduate Connectors had all previously been part of the Connector Programme in varying roles and applied for this paid opportunity to develop further professional and personal skills. The Graduate Connectorrole was created so that those who have worked as Student Connectors in the past can further develop their experience of collaborative working and gain the experience and responsibility of working in a busy staff team. Each Graduate Connector worked in collaboration with a staff member who manages different initiatives, so all our areas of work benefitted from valuable insight into the student perspective.
Hafsah Butt, graduated Geography Student and Student Experience Connector, was the Graduate Connector supporting Marc Slowey, Student Voice and Engagement Manager. Read about their experiences here:
My role as a Graduate Connector has been an incredibly valuable and enjoyable experience. The role gave me the opportunity to develop and enhance my personal and professional skills as part of a hardworking team of staff and recent graduates.
Highlights of my role were the opportunities to express my creativity and lead on exciting projects. During Welcome Week I spoke in front of a large number of students and gave a presentation introducing Student Voice at Sussex. This was a new experience for me and developed my ability to plan effectively and deliver with confidence. I was also able to demonstrate my original ideas and communication skills when I had the opportunity to film informative and engaging video content for social media. I was involved in the planning, writing and delivery of these videos which boosted my leadership skills and built my confidence with being in front of the camera.
One of my favourite things about this role has been the sense of community and kindness within the Student Engagement and Enhancement team. I have collaborated with several staff members on various projects, and they have always trusted my capabilities and treated me like a fellow staff member. The team is always in high spirits and effort is made to foster a sense of togetherness, including during the weekly team meetings and social events. Everyone has been a dream to work with and my line managers have been so understanding and helpful throughout my role.
My role as a Graduate Connector has been incredibly useful when I have been writing job applications and having interviews because of the breadth of examples I can draw from to demonstrate key personal and professional skills. I am currently applying for roles in the Civil Service and am excited for my future progression in this field.
Working with Hafsah has been a fantastic experience on both a professional and personal level. When Hafsah first started within the role as a Graduate Connector, the Student Voice area of work had just begun. This gave Hafsah some amazing opportunities but also some massive challenges to overcome during her four months working alongside me, and her professionalism and dedication to improving how we gather and listen to the Student Voice at Sussex have been beyond admirable.
Utilising her recent student experience to influence how the University of Sussex will work with students' voices for the foreseeable future, Hafsah cocreated some amazing projects with various stakeholders across the University. For example, Hafsah was instrumental in the development and roll-out of the new Mid-Module Evaluations, working with senior staff and all academic schools to implement this new process. Hafsah has aided in the delivery and planning of the Student Voice Strategy, which without her input would not have been as forward-thinking as it is. Alongside this, Hafsah has worked with all of the schools across campus to create a positive working relationship with them and the Student Engagement and Enhancement Team.
Working with a recent graduate like Hafsah enabled us to understand what the students were thinking and how to interpret the information and feedback we gather from them. This has been vital to ensure that we create the best possible student experience at the University of Sussex and Hafsah has been at the heart of all decisions that have been made. Not only was Hafsah highly professional but she also brought a caring and fun nature to work. I am very lucky to be able to call Hafsah a work colleague, a co-creator, an inspiration and most importantly a newfound friend.
We want to say a huge thank you to Hafsah and all the Graduate Connectors for everything they have contributed to our team, and wish them all the very best for the future!