Holiday activities for students living on campus
Posted on behalf of: Student Communications
Last updated: Monday, 20 December 2021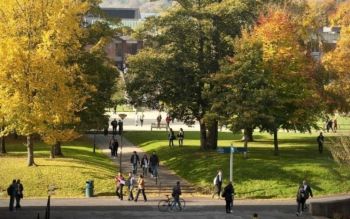 We know that lots of students are spending the holidays on campus, so we've collated a list of virtual and in-person (for those of you not self-isolating) activities that you might enjoy:
On campus
Our Residential Life team has created a programme of online activities including movie nights, games, speed friending, and amateur photography workshops. Check the Student Hub for dates and details.
One of the great things about having a campus on the South Downs is that you can explore its beautiful landscape. There are several walking and cycling routes around campus, but if you'd like to enjoy a whole day outdoors, the South Downs website also includes longer trails and activities.
For those of you who might be self-isolating, the South Downs website has virtual walks, so you can plan a trip for when you can go out.
If the visual arts are your thing, the Attenborough Centre for the Creative Arts is hosting a new family show for Christmas. Blu & the Magic Web is a fairy tale adventure updated for the modern generation.
Check the Student Hub for more events.
Some of our services will continue to run during the holidays, although the opening dates and times may change. Check the Student Hub to find out which services will be open over the vacation.
In town
Brighton offers a great variety of activities to choose from during the winter holidays, from skating at the Royal Pavilion ice rink to the Brighton Christmas festival. Check the VisitBrighton website for fun festive ideas.
For children
SussexSports is organising Children's activities from 20 to 23 December, including netball, basketball, cricket and circus skills.
For Covid safety, all activities are run in line with strict National Governing Body (NGB) guidelines, and all sessions have a limited number of places to keep group sizes small.
On Christmas Day
Get your Santa hat and join other festive swimmers in the annual Christmas Day swim! People across the city will brave the chilly temperatures to take part in this tradition. Register via the Student Union webpage for further details.
And after the swim, head to the Meeting House, which will be open from 12 until 3pm for students to come together for a Christmas Day celebration. There will be free refreshments, music, crackers, fun and games, and it will be an opportunity to meet other students. You'll need to show a negative lateral flow test taken on the day.