Support antiracism at Sussex with Santander Union Black training
Posted on behalf of: Student Communications
Last updated: Thursday, 28 April 2022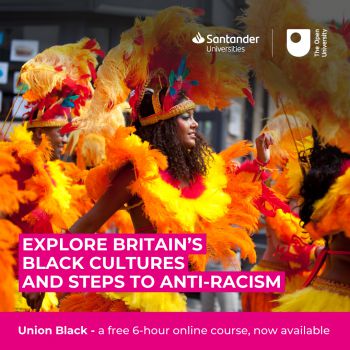 We are launching a new training course today (17 January) for Sussex students and staff in partnership with Santander to increase understanding of Black British history, race, and racism.
All students who complete the course by 2 May 2022 will also get the chance to win one of 50 £500 Santander Development Grants to support their studies.
Focusing on how individuals can make a positive difference, the course explores black cultures in Britain, dispelling myths in order to inform, challenge and contribute to the antiracism agenda.
Developed by leading academics including Professor Marcia Wilson, Dean of Equality, Diversity and Inclusion at The Open University, the programme includes contributions from (amongst many others):
David Olusoga, BAFTA-award-winning film-maker
David Lammy MP, Shadow Secretary of State for Justice
Baroness Shami Chakrabarti, human rights activist
Kwame Kwei-Armah, artistic director of The Young Vic
David James MBE, former England goalkeeper
The presenter of the course - Union Black: Britain's Black cultures & steps to anti-racism - is TV host and former Blue Peter presenter Ayo Akinwolere.
In November last year we launched our Antiracist Pledge and made a commitment to improve racial literacy and competencies in staff and student bodies. This course supports our ongoing work towards inclusion and antiracism in our community and we urge everyone to get involved by completing the training.
David Ruebain, PVC for Culture Equality and Inclusion, said: "This is a great opportunity for our community to be involved in a pilot to shape training to create a truly anti-racist culture within our organisation. It follows on from the work we are doing toward out Race Equality Charter and builds upon the Antiracist Pledge we launched last term. We are encouraging everyone to do the course and please share widely amongst your community."
As this is a pilot, there will also be an opportunity to provide feedback on the process, so we can contribute to shaping the training for other institutions. Further initiatives will also be launched over the coming months to complement the training.
About Santander Union Black
What is the course?
The course is intended to support students and staff to increase their understanding of Black British history, race, and racism, and how individuals can make a positive difference.
Santander Universities UK have developed the course in partnership with The Open University and leading social learning platform, FutureLearn. The programme responds to Universities UK's 'Tackling racial harassment in higher education' report which shone a stark light on the racial inequalities that exist across the higher education sector. The report called on universities to improve racial literacy among senior leaders, staff and students and issued a set of recommendations for institutions to implement including "training developed from an anti-racist perspective".
How long is the course open for?
The course open for registration online from Monday 17 January – Monday 2 May 2022. It is six hours in total and can be accessed online at any time. It can be completed in stages at your own pace.
How do I access the course?
Access to the course is via the Santander Scholarship platform. Once you have registered, you will receive an email from FutureLearn with the link to access the course within 24 hours.
What will I get at the end?
Everyone who completes the course will receive a digital certificate.
Students completing the course by 2 May 2022 also get the opportunity to enter a scholarship draw for one of 50 Santander Development Grants of £500 each to support their studies. The awards are being offered by Santander Universities, and administered via The Open University, where awarded students will be invited to take part in a live thought leadership event which will bring together high-profile ambassadors for a curated panel discussion.
Our ongoing work to tackle racism
Anti-racism work is a marathon, and we will continue to work on other initiatives, but we hope that we can make a difference by taking part in courses like this.
We are dedicated to becoming a truly anti-racist body of students and staff and we all need to be part of the solution.
How can I find out more?
If you have any questions about the course or how to take part, please contact the Equality, Diversity and Inclusion Unit at edi.unit@sussex.ac.uk