Spotlight on Brighton & Hove Pride: Sussex community stands for inclusion
Posted on behalf of: Internal Communications
Last updated: Friday, 29 July 2022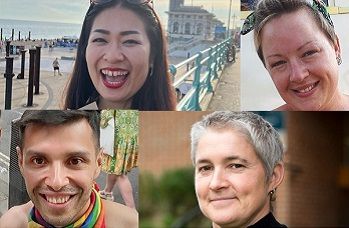 Our new 'Spotlight' series focuses on the people and teams at Sussex who are truly bringing our values to life. It's about the kindness, integrity, inclusion, collaboration and courage we see around us every day, and in our first edition, we highlight those taking part in Brighton Pride Parade 2022 representing the University of Sussex.
A group of 50 staff, students and alumni are set to join the Pride parade for Sussex on Saturday 6 August, including Sasha Roseneil, our new Vice-Chancellor, and David Ruebain, Pro-Vice-Chancellor (Culture, Equality and Inclusion).
Sussex has proudly supported Brighton Pride as an official partner since 2017 and we stand for what Pride stands for; making the world a better, kinder and more inclusive place, speaking up for the things that matter to us and pushing for change.
The 2022 Pride theme is #LoveProtestUnity, recognising that after two years of not being able to celebrate together in person, the community will come together to remember, to celebrate and to campaign.
Among those marching with Sussex is Professor Kate O'Riordan, Dean (School of Media, Arts and Humanities) and UEG member. Kate told us: "I'm a member of the LGBTQ+ community, and for all its commercialisation, Pride is an important element of liberation politics.
"It is a really significant event for the city and crucial fundraiser for LGBTQ+ community groups. The community parade element is at the heart of Pride - and it is also important to represent Sussex as part of that community."
Representation is also key for Charmaine Kohn, PhD Researcher, Doctoral Tutor and Research Fellow (Research Culture) in the School of Psychology - not only for her but for her family too. Charmaine told us: "I am a queer member of staff and a student, as well as parent of two disabled children, one of which identifies as LGBTQ+ as well. It is important for me to be visibly present and proud of not only myself and my children, but also the institute I work for."
Intolerance and bigotry remains a reality faced by many LGBTQ+ people around the world, and Brian Molina Perez, a postgraduate student in the Science Policy Research Unit said: "As part of the community, I think it is important to celebrate what we've achieved so far, and keep fighting for a fairer society - especially for those countries that have been left behind - and to remember those that died and struggled in the past to get us to where we are now."
This was supported by a current student who told us he is taking part because: "I am a queer man from a country where the government is narrowing the civic space for LGBTQ+ people. I find Brighton, and University of Sussex, quite an open space for the queer community."
Natsumi Wada, who graduated this July, reflected on her own understanding of LGBTQ+ issues before she joined the University, telling us: "I was pretty much closed minded about a lot of issues in the world including gender, environment, political and social issues etc. But Sussex opened up my mind. I am joining the Parade to celebrate diversity and spread positivity to the world."
Find out more about how we're supporting equality at Sussex on our new Inclusive Sussex webpages.