Taking action following your mid-module feedback
Posted on behalf of: Student Communications
Last updated: Thursday, 24 November 2022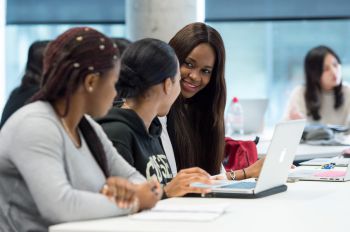 Thank you to every one of you who took part in the mid-module evaluation survey at the end of October. Overall, Sussex students submitted 16,903 responses to the survey!
Capturing your feedback halfway through your modules means that, where possible, your tutors and other University staff can make changes while your classes are ongoing. Your thoughts also help us to develop these modules for future groups of students.
We really appreciate you taking the time to let us know what could be improved and what's going well. Read on for more details about the survey results and how teams across the University are responding.
The majority of you are finding that teaching is helping to make the content clear. Across the University, 83% of responses either 'slightly agreed' or 'definitely agreed' with the statement covering this topic. Students shared over 1,000 positive comments focused on areas such as individual teachers and active learning approaches within workshops, seminars and lab sessions. We will be highlighting examples of good practice within your Schools and through staff training.

You value online learning resources like Canvas and Panopto. At a University level, 87% of responses either 'slightly agreed' or 'definitely agreed' with the statement about Canvas resources being well organised. In the comments, many of you said you value being able to go back through online recordings of lectures to support your learning.
We can do more to help you feel part of a learning community in your modules. While 70% of responses either 'slightly agreed' or 'definitely agreed' with the statement focused on this area, 11% disagreed and 19% weren't sure of an answer. We really want you to enjoy being part of a community of learners at Sussex, so we'll be seeing how we can foster this more through your modules.
How we are moving forward in response to student feedback
Assessment was a theme in student comments. Some of you mentioned wanting more information on particular assessments and more practice papers to help you prepare, which your Schools are looking into. In some cases, you fed back about the timing and mode of assessments – when and how they take place during the term. Based on this, we are already considering the timing and types of mid-module assessments for next year.

There is room to improve aspects of the learning environment on campus. This includes making sure all equipment (such as microphones) in teaching rooms is working as it should be. This feedback has been shared with the relevant teams to take forward.

Supporting your independent learning skills is a priority. Some of you raised points about study skills like referencing and time management. We have redeveloped the Skills Hub with lots of resources to build your confidence and abilities in these areas. Do take a look – we're sure you will find something to help you, including the many Academic Skills workshops taking place throughout the year.
Survey reports have been shared with Directors of Teaching and Learning and Directors of Student Experience in your Schools, along with Module Convenors and tutors. We are working with colleagues to share the feedback and progress follow-up actions.
Within your modules and Schools, and across wider University teams, we are collaborating to make sure you know what has happened as a result of your feedback. You can look out for more updates about how your feedback is being used throughout the year.
Professor Claire Smith, Deputy Pro Vice-Chancellor for Education and Innovation, led the mid-module evaluation exercise. Reflecting on the responses, she said:
"Thank you to all students who took part and provided comments. Your responses are very helpful, especially in areas where we know we can and will make changes.
"I am also really proud that your comments were so professional and kind, and that many of you used the survey as an opportunity to thank your teachers.
"I encourage you to take part in future feedback exercises to keep shaping the student experience at Sussex for the better."