"We were given a lot of autonomy and room for creativity" - Graduate Connector
Posted on behalf of: Connector Programme
Last updated: Tuesday, 31 January 2023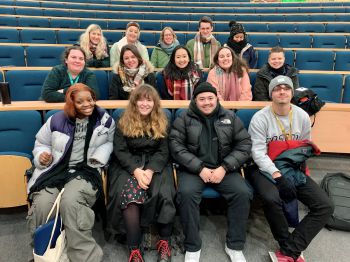 Over the past six months the Student Engagement and Enhancement (SEE) Team has been supported by a team of dynamic and thoughtful recent Sussex Graduates who were hired as Graduate Connectors. In the SEE team we run a variety of initiatives, including the Connector Programme, Spirit of Sussex Award, and Welcome Week. The SEE Team aims to champion inclusivity and togetherness and build a community where every student feels that they belong. We welcomed the Graduate Connectors into our team, and they were invaluable to our work.

The Graduate Connectors had all previously been part of the Connector Programme in varying roles and applied for this paid opportunity to develop further professional and personal skills. The Graduate Connector role was created so that those who have worked as Student Connectors in the past can further develop their experience of collaborative working and gain the experience and responsibility of working in a busy staff team. Each Graduate Connector worked in collaboration with a staff member who manages different initiatives, so all our areas of work benefitted from valuable insight into the student perspective.
Esther Sturch, Geography graduate and former Student Connector on the Sustainability project re-joined the SEE team as a Graduate Connector. Here we share their responsibilities in this role, their achievements, and their experience of co-creation, and the reflections of other Graduate Connectors in 2022's scheme.
Esther's specific responsibilities as a Graduate Connector varied throughout their role. Their initial workstream was Welcome Week in which they joined the team and "aimed to create resources and activities for new students to feel welcome at the university and find the necessary information for a smooth transition." - Esther
After Welcome Week, they moved over to the Student Engagement Programme (SEP) workstream and worked on the Belong at Sussex Programme. Esther describes that "the main focus of the project was to create events, and activities to create a sense of belonging for all students, with a specific focus on underrepresented groups."
As for achievements in the role, Esther shared two main points from their different projects. Firstly they discussed their achievements of working on Welcome Week saying: "My biggest achievement was creating the chill-out zones for Welcome Week. During this project, I learnt how to organise my time to complete tasks before the deadline, how to lead a project and delegate to others for support and I developed my skills in budgeting and utilising reusable items that are still being used for other events now."
As for their current role in the SEP sub-team, they further developed more skills relating to team communication like chairing meetings and taking minutes. They reflect on these skills saying: "Practising these skills has helped me develop my confidence in meetings, use my voice, and has developed my skills in perceiving what people are saying and put that into action points. I have gained enjoyment in participating in meetings and I am proud I can speak up more."
Other Graduate Connectors agreed that this opportunity has helped them develop many skills including: public speaking, communication, organisation, and leadership. Additionally, the Connectors noted that they were given a lot of autonomy and room for creativity when it came to their roles which helped them further work on their personal and professional skills.
As co-creation is one of the core aspects of the Connector Programme, we hoped to see collaboration between the Graduate Connectors and staff in the SEE team grow stronger. When asked on an exit survey if the Connectors had a positive and productive relationship with their line-manager, all the responses said the statement was 'completely true'. One of the Connectors elaborated saying their line manager had 'shown unwavering interest in my professional growth and wellbeing'.
Esther contributes to the discussion on co-creation saying: "Working with staff members has aided in understanding more effective ways of tackling tasks and has supported me in developing my professional style. I have found it useful to see how staff work with student connectors in a way I have adopted and developed whilst working with others. The connections staff members have to other departments and the knowledge they have about logistics has been invaluable. The staff I have worked with have all been extremely helpful, understanding, and supportive and I feel I have been able to utilise their knowledge and experience to develop various skills."
As the Graduate Connector roles come to an end, we asked Esther what their future plans are. Esther has been granted an extension to continue their Graduate Connector role till April 2023, and aside from the Connector work their other plans include aiming to complete their Level 4 qualification in British Sign Language in June and going on a research trip in July to Madagascar with an organisation called Opwall. And finally, Esther plans to apply for jobs beginning in September which "focus on helping people in a way that works on multiple projects and within a team."- Esther
We want to say a huge thank you to Esther and all the Graduate Connectors for everything they have contributed to our team, and wish them all the very best for the future!
Find out how you can develop your skills and prepare for post-university life by participating in The
Connector Programme here, or learn more about the Student Engagement and Enhancement Team
here.