Spirit of Sussex Award Spotlight: Kirsty Durkan
By: Rebecca Hart
Last updated: Friday, 3 February 2023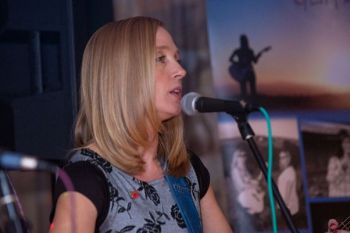 As part of our Spotlight series, we had the chance to speak with current Master's student Kirsty Durkan about her experience with the Spirit of Sussex Award. Kirsty reflected on her journey to postgraduate study as a Mature student, her passion for helping young people with their mental health, and how the award has supported her pursuit of life-long learning.
As an advocate of well-being, Kirsty gives her advice on how students can support their mental health whilst at University.
Please tell us about your academic and career background.
I started working with children and young people in schools and fell in love with it! I am a Mature student and started my studies later in life. It was the combination of my personal life where I supported mental health initiatives, along with my passion for working with young people that influenced me to undertake a Psychology degree, and then a Master's.
You are currently studying MSc Foundations of Clinical Psychology & Mental Health. What motivated you to study this degree and why Sussex?
I explored lots of psychology courses, but I was set on clinical or educational, and this course was the most relevant for me. The course has given me a much greater understanding of the practice. I had also been the parent on the other side of clinical psychologists and so I was interested to explore what they did and whether it was something I would like to do. I also hoped the course wouldhelp me to support my own family too. My master's has helped me feel far more equipped to have conversations and understand what the therapeutic relationship is about.
I was motivated to study at Sussex because it's local to me and as a part-time mature student with a family it suited me.It just made sense. It was the right course, in the right place at the right time.
How did you first hear about the Spirit of Sussex and why did you decide to participate?
I was made aware of the award from an email, and it instantly sparked my interest! I love to learn and it seemed like a beneficial way to structure my additional learning outside of the classroom. I was quite slow at logging pointsin the beginning, but then I realised that so many of the things I was doing in my day-to-day life were also relevant to the award.By participating in the award, I had a reason to celebrate these.
How did you balance your time taking part in the award, alongside your home and university life?
For me, it's all about priorities, and I have always prioritised my family and myself.I always make sure I am aware of what helps me to stay well, for example,I love singing, exercising and dog walking, all of which I do regularly and always make time for. I also see studying as a break. I ultimately chose to undertake a Master's degree and it was something I didn't do when I was younger, so it feels like I am doing something for myself. I enjoy studying and I love my course, so it does feel like a break from daily life!
What advice would you give to students about balancing their time?
The best advice I would give to students who are struggling to balance their time or are feeling overwhelmed is to ask for help. So many people who are struggling think they are the only ones and they truly aren't. It can be so beneficial to talk to people, whether that is family,friends,peersor someone completely new who can offer advice and support.
You logged points for completing mental health training. Do you believe this co-curricular activity supported your academic and career prospects?
Yes absolutely! From an academic perspective, the work I did as part of the training and development category gave me a real insight into how people are experiencing mental health. It also really helped to 'tie up loose ends'and helped me to understand the theories I was learning in class. For my career prospects, I was able to use the knowledge I had gained from this trainingcourse in interviews - whenI was asked how I would approach different students experiencing mental health challenges, I felt far more prepared and confident in being able to answer that question. For me, it was a bonus that I could earn points for something that advanced my studies and career!
Alongside your final year of study, you are working full-time. Could you tell us more about your current role and how you have applied the Spirit of Sussex Award?

I work as a Pastoral Leader in a school, which I applied for because of my passion for working with young people. The role is very demanding, you have to think on your feet, and time management is crucial. Skills that I have been able to gain and use in my everyday role include:building relationships, knowing when to listen, treating people with respect, and providing the right support for people facing challenges.
I logged points for completing a variety of online courses around the subject of mental health.Completing the award, I feel has given me the edge on how to deal with challenges in behaviour and well-being that I face everyday. In this role, you need to be flexible as not the same approach works for everyone, and everyone faces different challenges. Through my participation in the award, I have been able to gain extra knowledge outside of my degree, that is crucial to be successful in my role.
Lastly, why would you encourage students to take part in the Spirit of Sussex Award?
I would encourage students to take part in the award scheme. The Award is a way of celebrating and recognising the small things you do alongside your degree that are so important. The Spirit of Sussex Award highlights all the positive aspects of a person and has given me the motivation to continue to learn.
Interview and authored by: William Howlett, Spirit of Sussex Award Graduate Associate