A Psychology student and a Life Science student win £1000 each for taking part in the National Student Survey
Posted on behalf of: Student Communications
Last updated: Tuesday, 21 March 2023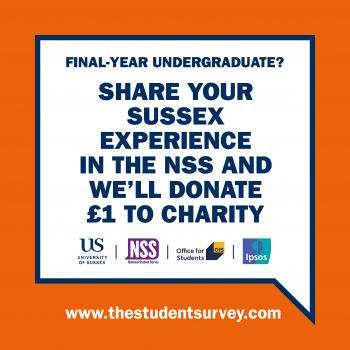 All final-year students who took part in the National Student Survey (NSS) before 28 February were automatically entered into a prize draw for two £1000 cash prizes. Ipsos Mori, who run the NSS of behalf of the Office for Students, selected the winners at random earlier this month.
The winners, one student from the School of Psychology and one from the School of Life Science, have already been contacted with details on how to claim their prizes. The two students have asked to remain anonymous.
Not taken part yet in the NSS? There is still

time
The NSS is an opportunity for final-year undergraduate students to tell the world about your time at Sussex.
It takes less than 10 minutes to complete, and your responses will help future students to decide what course to study and where.
The University of Sussex will donate £1 to the mental charity Mind for every eligible student who takes part in the NSS. Last year we donated over £2,600 to charity – help us increase the donation this year!
Complete the survey now, and as a thank you, don't forget to collect a free coffee or tea voucher from one of our NSS agents on campus.