Postgraduates help raise £1,063 for charity
Posted on behalf of: Student Communications
Last updated: Tuesday, 23 May 2023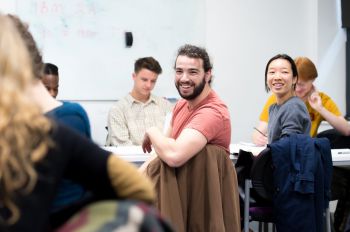 Thank you to all postgraduates who took part in the recent Postgraduate Experience Surveys, for getting involved and helping to shape the future for our postgraduate community.
At the end of March, we invited taught postgraduates on Masters programmes to take part in the Postgraduate Taught Experience Survey (PTES), while postgraduate researchers were invited to complete the Postgraduate Research Experience Survey (PRES).
The surveys were a chance for postgraduates to tell us about their experience at Sussex so far. We are always looking to make the experience of postgradudates undertaking a Masters or PhD programme with us the best it can be, and their survey responses will help us do that.
These two surveys are also the only national surveys of postgraduates, so their results help build an understanding of experiences across the country too.
As a thank you, the University committed to donating £1 to charity for every eligible postgraduate student who took part in PTES or PRES. When the surveys closed on Sunday 7 May, Sussex postgraduates had managed to raise a total of £1063.
As part of the surveys, we asked participants to pick their favourite charity of out the following five:
The majority of taught postgraduates voted UNICEF as their preferred charity. The University's donation will enable UNICEF to provide HIV tests to 275 pregnant women to help them protect their babies as well as exercise books and pencils for more than 1100 children.
Meanwhile, postgraduate researchers chose Mind. With our donation, the charity will be able to pay for the cost of one Infoline advisor for four days, providing vital mental health support to people in need.