Children's Asthma and Allergy: Are we Ready for Personalised Medicine?
11 August 2022 10:15 until 12:00
Brighton & Hove - Jubilee Library, Conference Room 3
Speaker: Professor Somnath Mukhopadhyay, Brighton and Sussex Medical School
Add this event to your calendar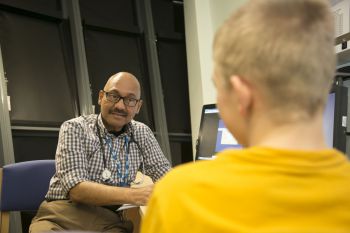 Register now for this free talk with Professor Somnath Mukhopadhyay, Joint Head of the Department of Clinical and Experimental Medicine and Chair in Paediatrics at Brighton and Sussex Medical School (BSMS).
Asthma is a common medical condition affecting the breathing of both children and adults, which can have a life-long negative impact on quality of life. The research led by Professor Somnath Mukhopadhyay is helping to transform the management of asthma and allergy, change treatment practice and improve patient outcomes.
Doors open at 10am, followed by Prof Mukhopadhyay's talk at 10:15 and time for discussion from 11-12 noon.
This event takes place in Conference Room 3 at Jubilee Library in central Brighton.
All are welcome. Spaces are free but limited, so please register now via Eventbrite.
For any questions about the event, please email Dr Deeptima Massey, Research Manager, BSMS.