View Flint articles from previous issues and catch up on anything you've missed.
---
Celebrating the Spirit of Sussex
Posted on behalf of: Student Communications
Last updated: Monday, 9 May 2022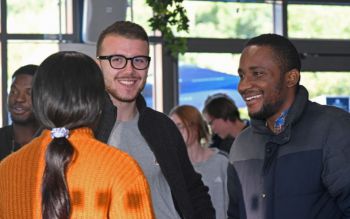 Following another successful year for the Spirit of Sussex Award, the team will be hosting its first-ever celebration event on 8 June between 1-5pm, in the new Student Centre.
The event will recognise the many achievements of our students across a diverse range of categories, and reward the wonderful extra-curricular work they've been doing while at Sussex.
This year, the award has welcomed 470+ Undergraduate awardees, and, for the first time, we'll be able to celebrate with them in person.
All Spirit of Sussex Award winners from the 2021/22 cohort are invited. And previous winners from the 2020/21 inaugural year are also welcome to join us.
The students and staff in the Spirit of Sussex Award team have been working hard to co-create an exciting agenda for the afternoon. You can expect catering, networking opportunities, fun activities, and an array of inspiring talks from alumni, staff, student connectors and special guest speakers. Check for updates.
Students who have made an exceptional contribution to each of our award categories will be nominated for a prize. All prizes have been specifically selected to support students further in their extra-curricular activities after they graduate.
Have you taken part in the Spirit of Sussex Award? Book a place now and come and celebrate with us on 8 June! You're also welcome to invite a friend currently studying at the university to help them find out more about the award scheme.
We also encourage staff to book onto the event to enjoy the celebrations, find out more about the award, and how you can help promote the scheme to students.
For more information, please contact us at sosa@sussex.ac.uk