Ian McEwan's real and fictional past unite at campus discussion
By: Jacqui Bealing
Last updated: Monday, 19 May 2014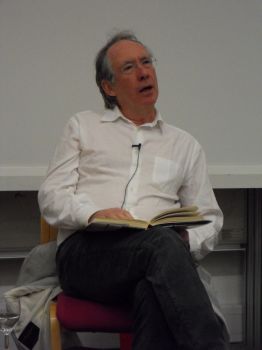 The living embodiment of one of his fictional creations as well as one of his former tutors were among the audience of famed novelist Ian McEwan at a talk at the University of Sussex's campus.
McEwan was in conversation with Sussex's Professor Peter Boxall to reflect on his works, the future of the novel and how much the trees on campus have grown since he graduated in English Literature in 1970.
He began by telling staff, students, alumni and his former tutor Emeritus Professor Cedric Watts in the packed Arts A2 Lecture theatre on Friday (16 May) about the last time he had sat in the building. "It was by mistake. I had turned up to a maths lecture."
The reminiscing continued with McEwan reading an excerpt from his 1970s-set spy novel Sweet Tooth, in which he describes the main character, Serena Frome, visiting Sussex English lecturer Tom Haley – whom he had originally named Tom Healy until he discovered there actually was a living academic by that name who's currently head of Sussex's School of English.
McEwan went on to read from his soon-to-be published new novel Children Act, in which he focuses on the legal and moral conflicts of a family division judge involved in deciding the fate of conjoined twins, one of whom will die if the separation takes place.
His interest in creating characters in particular professions stems from "intellectual curiosity" he said. "One way is to explore it is though the work characters might do. What drew me to writing Children Act was the life and work of judges. My character works in a court of law, not morals. She must apply the relevant principles of law to a situation."
Similarly, he said his interest in science, which features extensively in his novels, from the neuroscientist in Saturday, to the climatologists in Solar, comes out of "a sense of urgent frustration and a desire to know".
But he denied that the novelist's function should be a public intellectual. "We have this rolling, hungry news media and the cheapest thing it can have is comment. There's a temptation for novelists to get sucked into a world of instant opinion. They shouldn't do it. They don't know any more, and in fact considerably less, than others."
And if he had failed to become a successful writer? "I'd have played bass guitar in a Grateful Dead tribute band."