Filming commitments keep Chancellor away from graduation
By: Jacqui Bealing
Last updated: Tuesday, 1 July 2014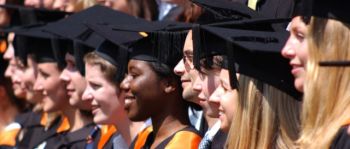 Nearly 3,000 graduands will be attending this year's University of Sussex summer graduation ceremonies at Brighton Dome (8-11 July).
Unfortunately, filming commitments will this year prevent the University's Chancellor, Sanjeev Bhaskar, from presiding.This is the first graduation he has been unable to attend since being installed as Chancellor in 2009.
Mr Bhaskar, an award-winning actor and comedian, said: "I have been asked to assist in saving Planet Earth from dark forces and on this occasion it's fallen, rather inconveniently, right in the middle of graduation week. My heart will be in Brighton, however, swelling with pride and admiration as all the graduands and their families celebrate these fantastic and deserved achievements."
Professor Michael Farthing, the University's Vice-Chancellor, who will confer the degrees in the Chancellor's absence, said: "Sanjeev is a strong supporter of the University and we will miss him at this summer's ceremonies.
"However, I am pleased that Chris Brodie, Senior Pro-Chancellor and the chair of our governing body, has agreed to preside at this summer's ceremonies. Chris is another dedicated supporter of the University and, in Sanjeev's absence, I can think of no one better."