"I love communicating with people, and I wanted a job that was flexible and would suit my studies."
By: Ellen Thomas
Last updated: Monday, 6 September 2021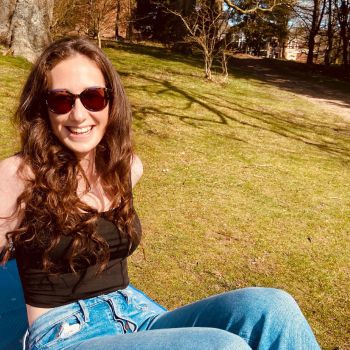 Hi Emma, please introduce yourself!
Hi, I'm Emma, I've just finished second year and I'm studying BSc Geography at Sussex.
Tell us a little bit more about why you decided to become an undergraduate student ambassador
I love communicating with people, and building a rapport, and I wanted a job that was flexible and would suit my studies. And it was great because I was living in halls so I could live on campus and not even have to commute - which was really handy.
What was the recruitment & interviewing process like?
We filled out an online application, went through some questionnaires, some scenarios - then we sent that off, I didn't hear back for a week or two. Then they came back to me and I was luckily invited to a selection event/interview. We interviewed and then had a group task - from memory, it was a presentation on what we'd say on a campus tour. So, as a group, we worked out who wanted to say what - some people did a section on the student's union, some people did a section on sports and societies, etc. Then we went away and we were all told by email the next week whether we'd got in or not!
What kinds of opportunities have you got involved with as a member of the ambassador team?
We were immediately thrown into Open Days and Applicant Visit Days, that were really fun. In the last year or so, we've done more virtual events. We've worked on Unibuddy, which is a really nice platform where prospective students can ask you questions and you can answer them on your mobile, which is really handy! Recently I've been doing campus tours for people who've got offers, and over the last few weeks we've been doing tours for school groups. It's been really varied.
You're also one of our Senior Student Ambassadors, can you tell us a bit more about what that role involves?
Being a Senior Student Ambassador, there are more opportunities available, and the role can help foster further personal development. There are more opportunities to develop your public speaking and presentation skills, as you will be actively encouraged to lead talks on Student Life. I think that students, teachers and parents all find hearing about your own personal experiences of student life really invaluable, as it can be the truest representation of life at Sussex. There is also the chance to travel to local schools and give talks and presentations off campus. You will also be seen as a role model for the new ambassadors and should actively help to make the new recruits feel welcome in our wonderful team.
What kinds of skills or life lessons have you picked up during your time as an ambassador?
Definitely communication. I used to be quite shy, so I think being thrown into having to talk to all different sorts of people and parents, lecturers, fellow student ambassadors - and often in a quite fast paced environment, like on an Open Day when everyone's working really hard as a team, I think it's a really good way of improving your communication skills. And just your confidence in any public situation - if you're confident taking a group of people around campus, I think that says a lot about how confident you are.
Good time management skills as well - keeping an eye on all the opportunities that are coming up - you have to keep track of what time you're meant to be in, where you're meant to be. For the campus tours we've been doing, you're in a different place each day, so it's important you're checking your emails. And you have to delve into Brighton public transport, to make sure you're on time! And teamworking skills from working within a team, they're always a great bunch of people.
What's your favourite and your least favourite thing about being an ambassador?
My favourite part is working in a team with likeminded people, of similar ages. We've all had similar experiences at university, we're all working towards a common goal of graduating and developing all these skills, and passing on all our knowledge to the students that visit Sussex. I've always enjoyed working with everyone, because everyone is just so welcoming and lovely.
I don't really have a least favourite thing - if I was being really picky, there's no set or guaranteed amount of hours each month that you're working, although personally I'm not really bothered about that.
What advice would you give any students considering applying to become a student ambassador?
Definitely apply! Even if you're not sure about it - go through the online application, and if you get through to interview, still go for it. Be yourself, be smiley and friendly and welcoming. I've not regretted it at all, and I was a bit apprehensive when I started the process of applying, but I'm so glad I did. I think it improves all the skills we've talked about so much!
Find out more about becoming a student ambassador.