"This role gives me the opportunity to enjoy a walk through my favourite spots on campus – and get paid for it!"
By: Ellen Thomas
Last updated: Thursday, 23 September 2021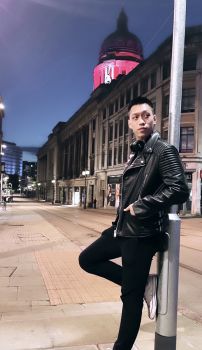 Hi Hieu, please introduce yourself! Where are you from and what course did you study?
Hi, I'm Duc Hieu Nguyen and I'm from Hanoi in Vietnam. I have just graduated from the Mechanical Engineering (BEng) course at the University of Sussex.
Could you tell us a little bit more about why you decided to become an International Student Ambassador (ISA)?
My main reason to become an International Student Ambassador is my love for Sussex. I really enjoyed my time as an undergraduate student, and I want to help others to feel the same. Sussex provided me with everything I need to develop myself. I was supported in all aspects, not just academically but also with health, wellbeing, and finding a job. That is why I really want to share my positive experience to our prospective students.
What was the recruitment and interview process like?
The ISA recruitment process was fairly simple. There were two rounds. The first one involved filling out an application form and the second one was an in-person interview. For the first round, I was given questions such as "Why do you want to be an ISA?" and "What can you bring to the team?". The second round was a relaxed interview, where I got to meet the staff members of our International Admin Team and some current ISAs. Overall, it was a very comfortable process and being myself was enough to pass.
What kinds of opportunities have you got involved with as a member of the ISA team?
I was involved in all kinds of opportunities over the last two years being an ISA. I gave several campus tours, answering questions from prospective students via Unibuddy. I have also supported call campaigns, where I had the opportunity to speak to Sussex offer holders based in Vietnam. During a Facebook livestream event last year, I even got the opportunity to work with our Vice-Chancellor with a small interview.
What kinds of skills or life lessons have you picked up during your time as an ambassador?
The role has enhanced my confidence a lot. I used to be a little bit shy, and conversations with strangers often made me feel a bit anxious. It might come as a surprise for you if you met me today but I honestly used to be like that. The work requires constant interactions with students and their parents and therefore, it really took the shy Hieu away. In addition, frequent email contact with the International Office meant my IT skills were improved massively during the job, which was beneficial for my academic work too.
What's your favourite thing about being an ISA?
My favourite thing about being an ISA is that I get to give campus tours for prospective students. It's really nice to meet and greet prospective students and their families, but also gives me the opportunity to enjoy a walk through my favourite spots on campus – and get paid for it! I just really enjoy being on campus and I believe you will have the same feeling if you visit our campus.
What advice would you give any students considering applying for the role?
My top tip for our ISA candidates would be "be confident". The recruitment process shouldn't be too strenuous so there's no need to worry about it. Just be yourself, show the team your true characters, and enjoy the interview.
Now you've finished your Undegraduate course, what's next for you?
I'm looking forward to my PhD course at Sussex. The University is like my second home and I'm really excited to be back here continuing my studies this year.